MOD Movies: Music Films
Pop, jazz, rock, opera, and even old-fashioned musicals in a curious grab bag of music-related movies
By 
SeanAx
 Apr 29, 2012 10:28AM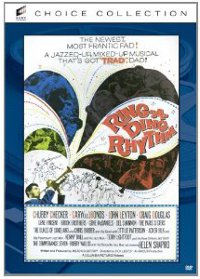 "Ring-A-Ding Rhythm" (Sony Pictures Choice Collection) is a 1962 British music performance film originally titled "It's a Trad, Dad" (you can see why they retitled for the U.S.). The first feature by American-born but British-based Richard Lester (who went on to redefine the rock movie with "A Hard Day's Night" and "Help") is basically a succession of performances connected by the thinnest of plots: a couple of teenagers defy a ban on jazz by recruiting bands for a big concert. And by jazz, I mean the traditional Dixieland style that had a big youth following in Britain in the early sixties: modern sixties youth listening to music that was new during prohibition. Can you believe those starchy adults and parents are still horrified? Dropped in with the dozens of trad jazz acts (including Kenny Ball and His Jazzmen and the funky Temperance Seven) are a handful of pop and rock performances by the likes of Chubby Checker, Del Shannon, Gary U.S. Bonds, Gene Vincent, and Britain's Helen Shapiro, who also plays one of the leads.

This is a prime example of a director making something out of nothing. Handed a script that does little more than stitch together a succession of musical performances, Lester doodles in the margins, dropping oddball, surreal gags between the numbers and sometimes during the performances. The script is credited to producer Milton Subotsky but the cheeky asides and slapstick flourishes are clearly from the mind of Lester, who came to the film from a series of collaborations with Peter Sellers. It's not that Lester makes anything particularly memorable from it all, but that his light touch and whimsical attitude keeps it buoyant and bouncy and far more engaging than you have any right to expect.
Also from Britain is "Just For Fun" (Sony Pictures Choice Collection), another Subotsky production with a nominal plot stitching together performances by a more familiar line-up of pop performers, including Bobby Vee (singing "The Night Has a Thousand Eyes"), The Crickets, Freddy Cannon, The Tremeloes, The Tornados, and a batch of other British acts. Both of these, by the way, are the Amicus, before the company redefined itself as Britain's trashier, second-tier house of horror.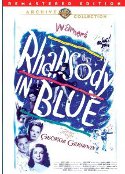 "Rhapsody in Blue" (Warner Archive) is the highly fictionalized 1945 version of the George Gershwin story, starring Robert Alda (in his film debut) as the great American composer. It's quite the melodrama, with Gershwin finding popular success but so driven to create "important" music that he flees romance (both Joan Leslie and Alexis Smith) for Europe and the respectability of compositions like "Porgy and Bess" and "Rhapsody in Blue." Al Jolson gave Gershwin his first hit when he sang "Swanee" and he plays himself in a recreation of that debut. Also playing themselves are Oscar Levant, Paul Whiteman, George White (of the "Scandals" revues), and Hazel Scott, while Herbert Rudley plays brother and lyricist Ira Gershwin. In a film that runs 2 ½ hours, it's surprising how little Ira is in the film. A Warner Archive Remastered Edition release.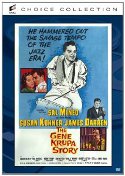 "The Gene Krupa Story" (Sony Pictures Choice Collection) stars Sal Mineo as the legendary jazz drummer. Don Weis directs the 1959 Hollywood bio-pic that charts his rise into the spotlight and fall into drugs. James Darren, Susan Kohner, and Susan Oliver co-star, with Bobby Troup as Tommy Dorsey, Shelley Manne is Davey Tough, and music legends Red Nichols, Anita O'Day, and Buddy Lester appearing as themselves. This was previously available as standard DVD in 2004 but has been long unavailable.
"Serenade" (Warner Archive) is an oddity in the career of director Anthony Mann, best known for his early, brutal film noirs and his often equally brutal westerns. Based on a novel by James M. Cain, this somewhat overripe melodrama stars Mario Lanza as a vineyard worker who becomes an opera star and Joan Fontaine as his manipulative patron who breaks his heart, sending him fleeing to Mexico and the arms of lovely Seniorita Sarita Montiel (Mann's wife). A Warner Archive Remastered Edition release.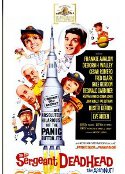 "Smilin' Through" (Warner Archive), a musical remake of the 1919 play and 1932 Oscar nominates romantic supernatural drama about two generations of lovers united in World War I, is Technicolor Jeanette MacDonald without Nelson Eddy. MacDonald and her real-life husband Gene Raymond play the dual roles of the lovers, then and now, and Brian Aherne co-stars. Frank Borzage, whose greatest romantic dramas have a touch of the spiritual already, directs.
"Sergeant Deadhead" (MGM Limited Edition Collection) is not a music film by definition, I confess, but with Frankie Avalon starring as an astronaut accidentally launched into orbit with a chimp and a cast featuring beach movie veterans Deborah Walley (also a one-time "Gidget), Harvey Lembeck, and John Ashley, it really feels like part of the early sixties genre of youth and music movies.
Available exclusively from Warner Archive:
"Serenade"
Available by order only from Sony Pictures Choice Collection, from Amazon, Critics Choice Video, Classic Movies Now, Warner Archive, and other web retailers.
"Ring-A-Ding Rhythm"
"Just For Fun"
"The Gene Krupa Story"
Available by order only from the MGM Limited Edition Collection, from Amazon, Screen Archives Entertainment, Critics' Choice Video, Classic Movies Now, Warner Archive, and other web retailers.
"Sergeant Deadhead"
MOD stands for "Manufacture on Demand" and represents a recent development in the DVD market, where slipping sales have slowed the release of classic, special interest and catalogue releases. These are DVD-R releases, no-frills discs from studio masters, ordered online and "burned" individually with every order. You can read a general introduction to the format and the model on my profile of the Warner Archive Collection on Parallax View here and on the MGM Limited Edition Collection on Videodrone here.