Cult Watch: "Dirty Mary Crazy Larry / Race With The Devil"
It's a Peter Fonda drive-in double feature
By 
SeanAx
 Apr 13, 2011 11:00AM
"Dirty Mary Crazy Larry / Race With The Devil" (Shout! Factory)
Shout! Factory continues their bargain-minded celebration of drive-in genre cinema with this double feature of cult favorites starring Peter Fonda, both previously released to DVD but out of print for some time.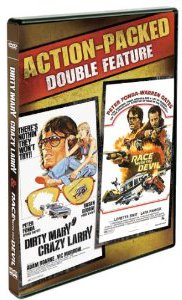 In "Dirty Mary Crazy Larry" (1974), Fonda is all testosterone and irresponsible arrogance as Larry, a former race car driver who plots a supermarket heist with his devoted, more level-headed mechanic (Adam Rourke). Susan George is pure devil-may-care sexual firecracker as wild child Mary, who takes shotgun on their getaway because she doesn't have anything better to do, alternately feeding off the thrills and impulsively sabotaging their getaway with tantrums and pouty tit-for-tat pranks. The sparks are genuine, but they are a truly combustible pair bound to explode. Directed with the equal energy by British director John Hough, whose lean, high-powered action scenes are energized by the dynamic, almost child-like performances of his thrill-addicted characters, it's a classic of seventies speed cinema, where car chase and stunt films were really about rubber hitting -- and leaving -- the road. Cars screech, metal collapses upon impact, and there's never any question that it's all really happening on screen. Vic Morrow leads the pursuit as a single-minded lawman determined to stop their getaway.
An underplayed sense of terror pervades "Race With the Devil" (1975), a cult thriller about a pair of vacationing couples who witness a human sacrifice while camping in their RV. Fonda, a hot-dogging motorcycle racer, and Warren Oates are old friends and business partners who head out from San Antonio to Aspen in a stocked and stoked behemoth of an RV (complete with wet bar, which is broken out at every stop for cocktail hour). Lara Parker and Loretta Swit play their respect wives and don't have much to do besides panic and scream, and the men make some dubious decisions in light of the continued attacks, but the sense of paranoia is beautifully built by director Jack Starrett. He keeps the attackers shrouded in darkness and mystery while throwing suspicion on everyone they meet, from a condescending sheriff (L.Q. Jones) all too ready to dismiss their account to the staring faces of strangers. Warren Oates is particularly good as the more pensive and thoughtful of the buddies and the ending remains one of the best film climaxes of its era.
Previously released individually by Anchor Bay, the films have now been licensed from 20th Century Fox by Shout! Factory and released as a DVD drive-in double feature in the mode of their "Roger Corman" collections, porting over the supplements from the previous DVD release. "Dirty Mary Crazy Larry" features commentary by director John Hough with moderator Perry Martin and the succinctly made retrospective featurette "Ride the Wild Side" with Hough and stars Peter Fonda and Susan George. "Race With the Devil" features commentary by producer Paul Maslanski and actress Lara Parker with moderator Perry Martin and the featurette "Hell on Wheels." Both include trailers, TV  spots and radio spots. Two discs in a standard case with hinged trays.