Videodrone B-Sides: 'Hansel & Gretel' – Horror franchise?
Our monthly round-up of direct-to-disc and made-for-cable pictures that slip on to the New Release racks
By 
SeanAx
 Jan 26, 2013 12:39PM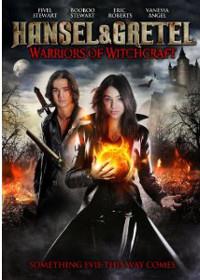 The tradition of cashing in on big budget studio films with cheap knock-offs, parodies, and too-similar-to-be-co​incidence sound-alike films dates back to the silent era. The home video market has merely opened up new avenues of distribution and profit. So, as "Hansel and Gretel: Witch Hunters" hits theaters, a couple of similar titles arrive on New Release racks.
In "Hansel & Gretel: Warriors of Witchcraft" (Lionsgate), directed by David DeCoteau, they are American teenagers (played by show-biz siblings Booboo Stewart, of the "Twilight" films, and Fivel Stewart) who discover their family legacy of witchcraft while at an elite boarding school run by headmaster Eric Roberts. Vanessa Angel is the teacher who helps them discover their powers and the oddball stuntcasting includes former teen rock star Cherie Currie and former "Waltons" daughter Judy Norton. DVD, with commentary by director DeCoteau and members of the cast.
The more simply titled "Hansel & Gretel" (The Asylum) is more of a traditional torture porn production with teenage Hansel and Gretel getting lost in the woods and taken in by Dee Wallace (the sole name in the cast), a baker by profession and a psychopathic killer who cuts up her victims for meat pieces. Blu-ray and DVD, with commentary, featurettes, and a gag reel.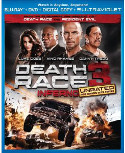 Action:
"Death Race 3: Inferno" (Universal) is the second direct-to-disc sequel in the prison / race-to-the-death franchise, this one setting the no-holds-barred demolition derby in the Kalahari desert, where guided missiles become part of the course booby traps. FEARnet film critic Scott Weinberg gives it a guarded recommendation: "if you like this sort of junk, here's a fun piece of that sort of junk." Luke Goss, Tanit Phoenix, Danny Trejo, and Ving Rhames are all back, and Dougray Scott co-stars. Blu-ray and DVD with R and unrated editions of the film, plus commentary, a featurette, and deleted scenes. The Blu-ray also includes and alternate opening, more featurettes, a bonus DVD, and a digital copy of the film for portable media players and UltraViolet digital copy for download and instant streaming. Also On Demand. Reviews here.
"Guns, Girls and Gambling" (Universal), which received a token theatrical release, is a Tarantino-esque heist film at an Indian casino featuring Christian Slater in an Elvis outfit running into a gang of thieves with the same outfits. "A strangely anachronistic crime and double-crosses picture — is there something more current to rip off than '90s Tarantino? — the film is needlessly flat, never much achieving the kick and surprise it aspires to, writes Los Angeles Times film critic Mark Olsen. Dane Cook, Helena Mattsson, Powers Booth, and Gary Oldman co-star. Blu-ray and DVD.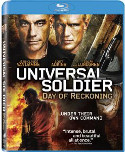 "Universal Soldier: Day of Reckoning" (Sony), the latest in the revived franchise, reteams "Universal Soldier: Regeneration" director John Hyams (son of Peter) with original soldiers John-Claude Van Damme and Dolph Lundgren and recent recruit Scott Adkins. Eric Kohn, writing for Indiewire, gives it high marks for creativity: "The story is thin and in retrospect fairly silly; performances are robotic all around. Yet it retains a refreshing edge that overcomes these barriers." Blu-ray and DVD, with commentary and three featurettes. More reviews here.
"Officer Down" (Anchor Bay) stars Stephen Dorff as a bad cop who gets a second chance but has to go rogue on a private mission. There's a pretty impressive cast around him for a film that got dumped direct to disc: Dominc Purcell, Annalynne McCord, David Boreanaz, Soulja Boy, Stephen Lang, and James Woods. Blu-ray and DVD. Reviews here.
The British hit-man thriller "The Liability" (Lionsgate) also has a pretty good cast, including Tim Roth, Talulah Riley, and Peter Mullan, and has a making-of featurette. And American boxing drama "Counterpunch" (Lionsgate) has Steven Bauer and Danny Trejo in support of an otherwise unknown cast, and includes featurettes, interviews, and outtakes. Both DVD.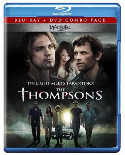 Horror:
"The Thompsons" (XLrator), a loose sequel to the indie vampire pic "The Hamiltons," sends the vampire siblings from America to London in search of an ancient vampire clan. It's directed by the colorfully-named The Butcher Brothers (Mitchell Altieri and Phil Flores), who have made a name for themselves in the direct-to-disc horror industry. "The 82-minute mash-up of horror, melodrama, and dark comedy doesn't slow down in one place too often," praises FEARnet film critic Scott Weinberg, who sees enough of this stuff to sort out the best from the reast. The Blu-ray+DVD Combo includes a handful of featurette.
"Overtime" (Indie Go!) stars former WWE superstar Al Snow as hitman and John Wells as his partner, partners who get locked in a lab teaming with zombie aliens. But what really makes them mad is that it's their day off and the birthday party of Snow's little boy, so this one is personal. The sci-fi-horror-comedy​ is on Blu-ray and DVD, with commentary and featurettes. Reviews here.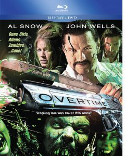 "War of the Dead" (eOne) add another title to the growing subgenre of Nazi zombie films. This one is from Lithuanian Film Studios and Finnish director Marko Mäkilaakso, but it's all in English on disc.
"Love Me" (Anchor Bay), a thriller about young love, missing teenagers, and obsession, and "A Thousand Cuts" (Horizon Films), about a vengeful father (Michael O'Keefe) out for revenge on the director of torture porn movies, both arrive on Blu-ray and DVD.
Plus: "Cherry Tree Lane" (Image) from Britain; "Ghoul" (Image) with Catherine Mary Stewart and Barry Corbin; and the ultra-low budget "Bleeding Through" (Independent Entertainment). All DVD.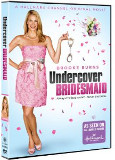 Romantic drama:
Coming from the film festival circuit is "The Love Section" with Mekhi Phifer and Teyana Taylor and "The Last Fall" (Image) with Lance Gross and Nicole Beharie.
"Undercover Bridesmaid" (Gaiam) with Brooke Burns and Gregory Harrison and "Cupid" (Gaiam) with Joely Fisher and Jamie Kennedy arrive on disc from The Hallmark Channel. "Love Notes" (Lionsgate), starring Laura Leighton and set in the world of country music, was made for Lifetime.
Family:
"Abel's Field" (Sony), a faith-based drama in the culture of high school sports with Kevin Sorbo; and the animated "Thor: Legend of the Magical Hammer" (Arc) from Iceland, available exclusively at Walmart.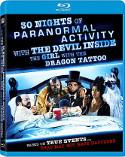 Miscellaneous:
"30 Nights of Paranormal Activity with the Devil Inside the Girl with the Dragon Tattoo" (Fox) is another ultra-low-budget spoof of recent genre movies. This one doesn't have a single person that you've ever heard of involved.
Comedians:
I don't cover stand-up comedy concerts, but I keep receiving them. And there are a lot of them, usually made for cable shows. Here's what came my way this month: "George Lopez: It's Not Me, It's You" (HBO), recorded for HBO; "Joan Rivers: Don't Start With Me" (eOne) and "Harland Williams: A Force of Nature" (Image), originally recorded for Showtime; and "Chris Hardwick: Mandroid" (Paramount), "Amy Schumer: Mostly Sex Stuff" (Paramount), and "Anthony Jeselnik: Caligula" (Paramount), all originally broadcast as Comedy Central specials and presented in "extended and uncensored" editions. All DVD only.
For more releases, see Hot Tips and Top Picks: DVDs, Blu-rays and streaming video for week of January 22