New Release Round-Up: Ben Affleck, Chris Cooper and Tommy Lee Jones are "The Company Men"
Plus Adam Sandler's "Just Go With It," James Cameron's "Sanctum" and more
The release of the week is the Coen Bros. take on "True Grit," with Jeff Bridges in the role of Rooster Cogburn ("A genuine, rip-roaring, no-nonsense Western with a thoroughly engaging storyline," wrote Glenn Kenny; see more on Videodrone here), while Mike Leigh's lovely "Another Year" is not to missed by fans of quiet storytelling with powerful performances (see Videodrone here). And it's a big week for foreign films, which I will cover in a separate feature here. But for now, we head back to Hollywood for the rest of the week's New Releases.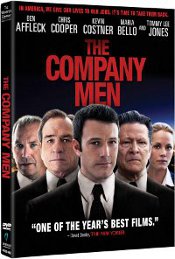 "The Company Men" (Anchor Bay)
Ben Affleck, Chris Cooper and Tommy Lee Jones play the loyal company men, white collar workers downsized from the companies they dedicated themselves to, in the drama of life in the recession from TV veteran John Wells (of "ER" and "West Wing" fame).
"As the cast list indicates, everything that's enacted here is exceptionally well acted, and there are a few little details that ring with uncomfortable truth," writes MSN critic Glenn Kenny. "Potshots at rapacious capitalism go hand in hand with tributes to good-old-American entrepreneurship, as if the two had zero in common -- but then again, economic analysis has never been one of the American cinema's strong suits."
Yet, he concludes that for all its strengths, the film is "a little on the predictable and rote side." Kevin Costner, Maria Bello, Rosemarie Dewitt and Craig T. Nelson co-star and the film is handsomely shot by the great Roger Deakins (who is also represented this week by "True Grit").
The DVD and Blu-ray feature commentary with writer/director John Wells, deleted scenes and the 14-minute "The Making of The Company Men." The Blu-ray features an alternate ending.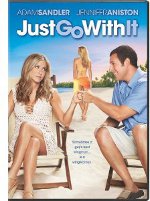 "Just Go With It" (Sony), the latest from Adam Sandler, is actually a remake of the 1969 comedy, updated and filled in with Sandler's brand of child-man humor and bad behavior. He plays a shameless womanizer who, due to all sorts of complicated explanations, talks co-worker and single mom Jennifer Aniston to pose as his wife in order to romance a gorgeous single woman (supermodel Brooklyn Decker, who spends much of the film in a bikini). Got it?
"If you enjoy Sandler's alternately underplayed and frantic delivery of sarcastic asides and such, there's a lot to like here, particularly in his interactions with the children (Bailee Madison and Griffin Gluck)," confesses MSN critic Glenn Kenny, but he ultimately finds it "a strange and largely unsatisfying animal that only very loyal fans of Sandler's schizoid-slick schlub schtick will find wholly satisfying."
Features two commentary tracks (one by actors Adam Sandler, Nick Swardson and members of the crew, the other by director Dennis Dugan), four featurettes, 16 deleted scenes and the obligatory blooper reel.
Exclusive to the Blu-ray edition (which comes in a two-disc Blu-ray+DVD Combo Pack) is an additional nine featurettes (the longest is six minutes), eleven minutes of deleted scenes and the BD-Live movieIQ function.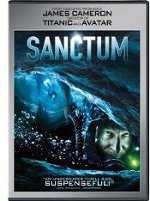 "Sanctum" (Universal), a cliffhanger thriller about father and son underwater cave divers who put aside their family feud when a dangerous dive turns deadly, was emblazoned with name of executive producer James Cameron and the promise of 3D thrills when it came out. Neither helped bring in crowds or woo critics. MSN critic Glenn Kenny wrote: "The rambling, staggering story line toggles clumsily between depictions of natural disasters and human error and/or treachery without ever hitting anything like a stride, to the extent that after a while the admittedly protean visual set pieces don't provide much relief from the dreariness." Richard Roxburgh, Rhys Wakefield and Ioan Gruffudd star, Alister Greirson directs.
The film is released in DVD, Blu-ray and Blu-ray 3D editions. All versions feature commentary by director Alistair Grierson, writer/producer Andrew Wight and star Rhys Wakefield, the 45-minute "Sanctum: The Real Story" (a making-of production) and "Nullarbor Dreaming" (a documentary on the real-life cave diving expedition that inspired the movie) and deleted scenes. The Blu-ray editions feature BD-Live supplements and the Blu-ray 3D works only with 3D compatible TVs and Blu-ray players.
Nice Guy Johnny
" (MPI) is a romantic comedy from Ed Burns, who returns to his indie roots with this micro-budget production. Burns co-stars as a bad influence on his nice-guy nephew (Matt Bush) during a weekend getaway in the Hamptons. Features commentary by and an interview with Burns, plus deleted scenes and casting tapes.
Also new this week:
"In Her Skin" (IFC), starring Guy Pierce, Miranda Otto and Sam Neill, is an Australian drama of obsession, identity theft and murder based on a true story. Simone North directs. Features deletes scenes, interviews and a featurette.
"Shadows and Lies" (Millennium), originally premiered at the 2010 Tribeca Film Festival under the name "William Vincent," stars James Franco as a criminal in exile from New York who returns to rescue a call girl (Julianne Nicholson) from gangster. Martin Donovan and Josh Lucas co-star.
"The Wild Hunt" (MPI/FilmBuff), set in the world of live-action role playing, follows one man's odyssey into the culture as it turns dark and dangerous. The Canadian production, directed by Alexandre Franchi, stars Ricky Mabe as the newbie trying to navigate the strange world as the adventure becomes real. The DVD includes a featurette and storyboards.
"Cross" (Sony) – Brian Austin Green gets super powers and takes on the bad guys of Los Angeles (Michael Clarke Duncan and Vinnie Jones), who are kidnapping gorgeous girls off the streets. Tom Sizemore, Jake Busey and Lori Heuring also star in this direct-to-DVD superhero movie. Features commentary, deleted scenes and an alternate ending.
"Blue Crush 2" (Universal) is a direct-to-home video sequel to the grrrl power surf movie, relocated to the beaches of South Africa and featuring a whole new cast and story. DVD and Blu-ray, with an alternate opening, deleted scenes, commentary and featurettes.
"Pros and Ex-Cons" (Lionsgate), starring Sam Worthington as a hitman who kills the wrong target, was originally released in 2005 under the name "Fink!"
"Vanishing of the Bees" (eOne/True Mind) – Ellen Page narrates this documentary on the phenomenon of colony collapse and possible solutions to saving the bees.
"Who Took the Bomp? Le Tigre on Tour" (Oscilloscope) follows the band on their 2004-2005 tour across four continents. Features commentary by the band, bonus live performances, outtakes and other supplements.
For more on DVD this week, visit weekly DVD listings in MSN.