Cult: 'The Qatsi Trilogy'
Godfrey Reggio's meditative explorations of the contemporary world get the Criterion treatment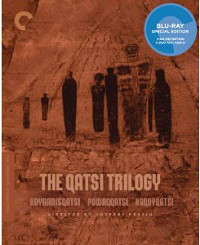 "The Qatsi Trilogy" (Criterion) collects all three meditative visual essays by monk turned filmmaker Godfrey Reggio. Not really documentary, not quite essay, and hardly abstract, "Koyaanisqatsi" (1983), Hopi for "Life Out of Balance," looks on the surface to be a celebration of simple, "primitive" cultures tied to the natural world contrasted with the dehumanization of modern urban society, but amidst his images of degradation and urban poverty are also a beauty and a grandeur of magnificent cityscapes and a celebration of some of man's achievements. Most importantly, he stops to watch the faces. People are people, wherever they are in the world, and their faces tells a story unique to each person.
Where "Koyaanisqatsi" takes the Northern Hemisphere, "Powaqqatsi" (1988), "Life in Transformation," takes the Southern Hemisphere, where the urban asphalt and neon of Tokyo and the bustling streets of Indian cities are captured with the same grace as the tribal dances and rituals of African and South American rural peoples. "Naqoyqatsi" (2002) completes Reggio's impressionist trilogy. Ostensibly portraits of modern society out of balance with the Earth, they are also astounding beautiful impressions of the world with hypnotic scores by Philip Glass.
Blu-ray and DVD, with Reggio's 1992 short "Anima Mundi" (featuring music by Philip Glass), a video afterward by Reggio on the trilogy, and two interview featurettes with Reggio and Glass. The 24-minute "The Essence of Life" shows the early impressionistic work of monk turned filmmaker Reggio and described his philosophical approach to the film and the uniquely collaborative process of the filmmaking, which elevates Glass from simply a composer writing to images to an artist helping weave the fabric of the film. "Impact of Progress" contrasts the approach between the films, describes the increased collaborative role of Glass, and addresses the upcoming completion of the trilogy, "Noyaqatsi."
Also features additional new and archival interviews with Reggio, cinematographer Ron Fricke, composer Philip Glass, and others, and a booklet featuring essays on the trilogy by film scholar Scott MacDonald, music critic John Rockwell, and author and environmentalist Bill McKibben. Three discs in a box set of three paperboard sleeves.
For more releases, see Hot Tips and Top Picks: DVDs, Blu-rays and streaming video for the week of December 11