TV on Disc Channel Guide: Another season of aristocratic melodrama at 'Downton Abbey'
Plus 'Misfits: Season Two' from Britain, the first season of the cable series 'Femme Fatale,' and more
By 
SeanAx
 Jan 30, 2013 11:11AM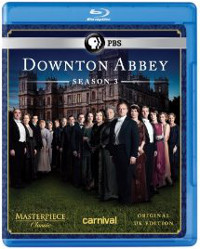 "Pan Am: The Complete Series" (Sony), the short-lived network series set in the early sixties and built around a quartet of young stewardesses who revel in the opportunity to travel the world, is a handsome evocation of an era on the cusp of social change. Videodrone's review is here.
"Downton Abbey: Season 3" (PBS) is a season of weddings and funerals, births and deaths, and an aristocracy stuck in the past dragged indignantly into the 20th century. Our paternal patriarch Robert Crawley, Earl of Grantham (Hugh Bonneville) is desperately looking for funds to keep his manor solvent after losing a fortune in a bad investment and thinks he might find it in his wife's American mother (Shirley Maclaine). The social wrestling match between Maclaine's lively American widow, embracing the modern age with a vengeance, and Maggie Smith's Dowager Countess and her withering comments, in the opening episodes is the season's highlight.
Meanwhile new son-in-law Matthew Crawley (Dan Stevens) bucks tradition and Lord Crawley to modernize the manor with the help of his working class brother-in-law (Allen Leach), an Irish political activist reluctantly learning the social manners of his new family culture. And in perhaps the most revealing storyline of the season, valet John Bates (Brendan Coyle), framed for murder and serving time in a brutal prison, proves to be a quick study of prison culture and masters the rules of survival with a cold-blooded focus. Apparently the servant class culture teaches survival skills for all situations.
The mix of wistful idealization of this world of privilege and ritual and wily critique of the aristocracy who embrace privilege as their duty and their right is so smooth it's hard to separate one from the other. The way the servant class is just as invested in the social hierarchy (complete with a rigid hierarchy of their own) contributes to this perspective on the culture. But as likable as our privileged family members may be, creator / writer Julian Fellowes keeps showing us that they are dinosaurs leftover from an earlier age. He holds out some hope for this family, thanks to the modern ideas of some of its younger members, but it's not hard to see them as the same silly class, oblivious to the reality of the world around them, as the doomed aristocracy of "Rules of the Game."
It arrives on disc before the season concludes on "Masterpiece Classic" on PBS. Eight episodes on three discs, plus the "Christmas Special" series finale, plus a number of featurettes. "Downton Abbey: Behind the Drama" is 48-minute overview of the show's first two seasons. The shorter featurettes include "Downton in 1920," "The Wedding of Lady Mary," "The Wedding of Lady Edith," "Shirley Maclaine at Downton Abbey," "The Men of Downton Abbey," and behind-the-scenes looks at the cricket match of episode eight and "Journey to the Highlands," the Christmas special finale.
"Misfits: Season Two" (BBC) continues the British series of troubled teens imbued with super powers with more dark stories of survival in a world gone feral. The series, which plays on Logo in the U.S., puts a dark spin on the superhero genre by giving powers to a collection of messed-up juvenile delinquents with poor judgment and bad instincts, and then pitting them against other powered humans who have decidedly malevolent intentions. These teens are all from broken homes and poverty and powers only makes their lives harder, but there is also a wily gallows humor to the show, as well as more death and sex than any American juvenile show. It's a creative show with a dark streak of mortality behind the grim fantasy. Seven episodes on two discs, plus two featurettes and deleted scenes.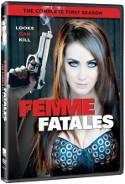 "Femme Fatales: The Complete First Season" (eOne) - While Cinemax works to rebrand itself with a slate of new original series in the slick, splashy, B-movie action mode, there will be some old fans comforted to know that it still earns its old nickname – Skin-emax – with this lurid pulp crime series laden with sex, violence, and gratuitous nudity. 14 episodes on three discs on DVD, with commentary on every episodes, lots of featurettes, deletes and alternate scenes, and more.
BritTV:
"Agatha Christie's Partners in Crime: The Tommy and Tuppence Mysteries" (Acorn) from the early 1980s stars Francesca Annis and James Warwick as Tommy and Tuppence, childhood friends reunited in love and adventure in Britain's post-World War I roaring twenties from their offices at Blunt's Detective Agency. The mysteries are rote but the tone is bouncy and chemistry between Annis and Warwick is as bubbly as champagne. 11 episodes on three discs, DVD.
"Wodehouse Playhouse: The Complete Collection" (Acorn), a comedy series from the seventies, stars real life husband and wife acting team John Alderton and Pauline Collins in half-hour adaptations of the comic short stories of P.G. Wodehouse. Deucedly clever and verbally deft, these are bright, deft little productions and the star performers are not merely amazing chameleons in their ability to metamorphose into entirely new characters for every story, but make the language dance in their exchanges. 20 episodes on six discs in a DVD box set of three cases.
"Agatha Christie's Poirot and Marple: Fan Favorites Collection" (Acorn) collects six episodes of "Poirot," starring David Suchet, and five episodes of "Marple," starring Geraldine McEwan and Julia McKenzie, in a DVD box set of six discs. All of the episodes have been previously released, and were chosen for this collection by the fans.
Nonfiction:
Two documentaries made for PBS debut. "More Than a Month" (PBS) from filmmaker Shukree Hassan Tilghman, turns a campaign to end Black History Month into a provocation to discussion. DVD, with bonus footage.
"The Mighty Mississippi" (PBS) is a feature-length journey down the length of the river with visits along the way to explore the culture. DVD.
For more releases, see Hot Tips and Top Picks: DVDs, Blu-rays and streaming video for the week of January 29