TV on Disc Channel Guide: Battling 'The Big C' with Laura Linney
Plus the award winning 'Cold War,' more 'Fantasy Island,' the complete 'Dark Shadows' and more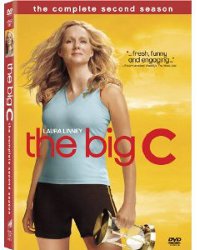 "Chuck: The Complete Fifth and Final Season" (Warner) brings the nerd spy fantasy to a close with 13 strong episodes and a farewell made to satisfy the passionate fan base that kept the show alive despite struggling ratings. Blu-ray and DVD, both featuring Ultraviolet digital copies. Videodrone's review is here.
"The Big C: The Complete Second Season" (Sony) brings back Laura Linney as Cathy Jamison, a wife, mother, and high school teacher who turns a diagnosis of cancer (the big C of the title) into a springboard to live her life to the fullest in the second season of the Showtime series. It's terminal but treatment may give her extra years, and she dives into every possibility with an optimism that her former self never had.
I found the kooky eccentricities of Linney's character close to unbearable in the first season of the show. But this time around, her Cathy is more committed to actually living her life and looking after the people she cares about in, from her flailing husband (Oliver Platt) and struggling son (Gabriel Basso) to a student (Gabourey Sidibe) who moves in and the school swim team, who gets a taste of her maternal ferocity and likes it. Compassion tempers her reflexive rebellion and she's no longer as self-absorbed, merely self-aware. And given the instability of those around her in the face of comparatively minor crises, she's now the most well-grounded person in the show.
13 episodes on three discs, plus deleted scenes and outtakes. DVD only.

"Cold War: The Complete Series" (Warner) presents the 24-part Turner Original documentary series that played in CNN in 1998. Narrated by Kenneth Branagh and produced by Jeremy Isaacs ("World at War"), this mini-series won a Peabody Award. 24 episodes on six discs, plus the archival documentaries "The Hoaxters" (1952) and "Fidel Castro: In His Own Words" and an Ultraviolet digital copy of the entire series, for download and instant streaming.
"Dark Shadows: The Complete Original Series" (MPI) collects all 1225 episodes of the gothic soap opera on 131 discs in a custom coffin-shaped box and takes the crown as TV megaset of the century to date. It includes all the supplements from the original disc releases (including more than 100 bonus interviews) plus a 96-page booklet with photographs and episode summaries. And, what coincidence, it arrives days before the Tim Burton remake / spoof with Johnny Depp.
"Fantasy Island: The Complete Second Season" (Shout! Factory) comes a mere seven years after Sony's release of the "First Season" DVD set, thanks to Shout! Factory's commitment to American pop culture. Give these guys credit for knowing their audience: they make sure that all the cult figures are called out along with the more conventional celebs in the episode listings. Now you know where to find Sid Haig, Cassandra Peterson, Jonathan Frakes, Mamie Van Doren, and Billy Barty! 25 episodes on six discs.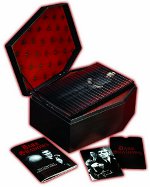 BritTV:
Three classic "Doctor Who" stories: "Nightmare of Eden" (story no. 107) starring Tom Baker as The Doctor, and "Dragonfire" (story no. 151) and "The Happiness Patrol" (story no. 153) with Sylvester McCoy as The Doctor. Each single-disc release is packed with commentary, archival featurettes, interviews, and other supplements. The BBC has The Doctor covered.
Plus:
A pair of Lifetime Original Movies: "Girl Fight" (New Video), a drama of high-school bullying with Anne Heche and James Tupper, and "The Bling Ring," a drama based on the true story of upper-class kids who got their thrills robbing the rich and famous, starring Austin Butler, Yin Chang, and Jennifer Grey.
"Happiness Is… Peanuts: Team Snoopy" includes the 2003 half-hour special "Lucy Must Be Traded, Charlie Brown" and three short from "The Charlie Brown and Snoopy Show."
For more releases, see Hot Tips and Top Picks: DVDs, Blu-rays and streaming video for May 8