Coming Up: Blu-ray debuts
including the "Scream" trilogy, "Grand Prix" and the cult movies of Alejandor Jodorowsky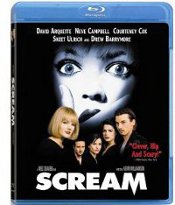 Scream for joy! On March 29, the complete original "
Scream
" trilogy arrives on Blu-ray (just in time for the fourth) from Lionsgate."
Scream
," "
Scream 2
" and"
Scream 3
" are all being released in separate volumes (but I wouldn't be surprised to see a box set sometime later this year when "
Scream 4
" hits home video).
Also on May 24, John Frankenheimer's "
Grand Prix
" (Warner) crosses the Blu-ray finishing line, as do two Civil War drama from Ronald Maxwell: "
Gettysburg
" (Warner) and "
Gods and Generals: Extended Director's Cut
" (Warner).
Alejandor Jodorowsky's cult midnight movies "El Topo" and "The Holy Mountain," arrive on Blu-ray from ABKCO Films and Anchor Bay on April 26.
"Supernatural: The Complete Second Season" (Warner) arrives on Blu-ray on June 24, completing this stealth hit's migration to the high-def format.