Blu-ray: 'Tarantino XX'
Eight features in twenty years from Quentin Tarantino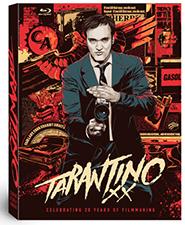 I don't know of another American filmmaker who brings such joy to the act of cinematic storytelling as Quentin Tarantino.
From his attention-grabbing debut with "Reservoir Dogs" (1992), a deviously clever heist film where the heist is never seen and the drama is all in the conversation and the ingenious structure, to his acclaimed "Inglourious Basterds" (2009), his thrilling rewrite of World War II history as a magnificent movie fantasy, Tarantino has gone his own way, snatching up ideas strewn through decades of film history and hundreds of genre movies like a magpie, rethinking them completely, and weaving them into entirely new stories that unfold at a leisurely pace so he can enjoy every word and gesture along the journey.
"Tarantino XX: 8-Film Collection" (Lionsgate) celebrates his love of movies and moviemaking by collecting all seven feature films directed by Tarantino -- plus one film written by Tarantino and directed with an appreciation for his sensibility -- in a single box set (beautifully designed with a fold-out mural by Mondo artist Ken Taylor) with two new discs of supplements.
The films have all been available on Blu-ray before and those discs are essentially reproduced for this set, supplements and all, from Tarantino's commentary on "True Romance" (his sole commentary track for any of his films) to interviews with Tarantino and his collaborators on "Jackie Brown" and "Inglorious Basterds."
What's new to this set are the extras on the two bonus discs. On Bonus Disc One is "Critics' Corner: The Films of Quentin Tarantino," a discussion with film critics Scott Foundas, Stephanie Zacharek, Tim Lucas, and Andy Klein, moderated by Tarantino fan and friend Elvis Mitchell. All eight films in the set are covered in a discussion that runs 290 minutes -- almost five hours altogether. Portions of this presentation were used in the earlier Blu-ray releases of "Pulp Fiction" and "Jackie Brown" but this disc presents an extended cut of the conversation, which you can watch straight through or access film by film.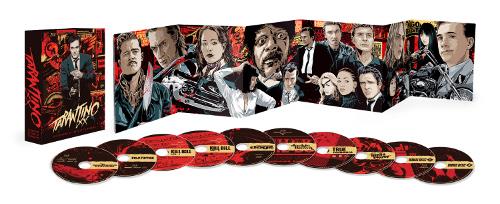 Bonus Disc Two presents "Quentin Tarantino: 20 Years of Filmmaking," a feature length (133 minutes) original documentary that covers the filmmaker's entire career. Think of it as an oral history of Tarantino as a filmmaker and screenwriter, told entirely through interviews with his collaborators: his first producers Lawrence Bender, Stacey Sher, Richard Gladstein, actors Samuel Jackson, John Travolta, Pam Grier, Robert Forster, and Tim Roth, friends and colleagues Robert Rodriguez and Eli Roth, and others. It also features a tribute to his editor Sally Menke, who worked with him from "Reservoir Dogs" through "Inglourious Basterds" and was, in Tarantino's own words, his only genuine collaborator on his films. Menke died 2010 at the age of 56.
Also includes the 32-minute "Jackie Brown Q&A," an on-stage discussion with Tarantino and stars Pam Grier and Robert Forster, moderated by Elvis Mitchell, recorded at the "Film Independent at LACMA" series, and a collection of trailers for the upcoming "Django Unchained."
Notes on the individual films are after the jump. Click on "More" below.
For more releases, see Hot Tips and Top Picks: DVDs, Blu-rays and streaming video for week of November 20
"Reservoir Dogs" - Quentin Tarantino's quotable blast of post-modern crime movie cool is one of the most attention grabbing directorial debuts in recent history. Harvey Keitel, Tim Roth, Michael Madsen, and Steve Buscemi regroup in an empty warehouse in the aftermath of jewel heist gone bad that left two dead and one of them bleeding his life away through the gut. This is very much a first film: exceedingly violent, virulently macho, and bubbling with sexist, racist, unapologetically amoral criminal characters. Tarantino is having too much fun in the pulp world of its tough guys to scratch beneath the surface of romantic gangster tropes. The key word, however, is fun. Tarantino lifts ideas from dozens of movies, then makes it his own with narrative surprises, striking characters, and some of the most enjoyable movie-movie dialogue and pop-culture patter to show up in the movies in ages.
"True Romance (Director's Cut)" - Quentin Tarantino wrote but didn't direct this road movie of lovers on the run with a trunk full of (inadvertently) stolen cocaine, but his fingerprints are all over it: the playful movie-movie dialogue, the vibrant characters, the twisty plot. And as he insists in his commentary track on the DVD special edition, there is no irony to the title. Amidst the violence and bloodshed, lonely comic-book nerd Christian Slater and smudged little girl lost hooker Patricia Arquette find passionate love and incorruptible devotion. Director Tony Scott embraces Tarantino's words, as does the great cast (Dennis Hopper, Gary Oldman, Brad Pitt, and Christopher Walken among them), but more importantly he understands the blast of pulp poetry for what it is.
"Pulp Fiction," Tarantino's sophomore feature, solidified his reputation as a cinematic mixologist of genre stories. The playful quartet of overlapping stories mixes American film noir, the French New Wave, and a post-modern sensibility to create a movie-movie for the 90s. John Travolta (in a career-reviving turn) and Samuel Jackson are a pair of fun-loving hit-men who wander through the urban crime landscape with easy style, trading shaggy stories and off-kilter insights in a film that twists and turns and double backs on itself with the sheer delight of a narrative magician. Bruce Willis is a doughy boxer who double crosses a fight fixer, Uma Thurman the flirtatious mob wife of Ving Rhames (all ropy muscle tensed to a vengeful pitch), Harvey Keitel a mob cleaner, and the list goes on. Tarantino tosses off quotable dialogue like confetti and fills the film with playful pop-culture references, shaggy dog stories, dark humor, and punctuations of bizarre violence, mixing the classic with the kitschy in a way that appreciates both. It earned Tarantino an Oscar for Best Screenplay (shared with former video store buddy Roger Avery) and nominations for Best Director and Best Picture, among others.
"Jackie Brown," Tarantino's adaptation of Elmore Leonard's "Rum Punch," isn't quite his best film, but it should be. It's easily his most mature. This take on Leonard's tale bypasses the jacked-up, smart talking pulp adolescents that populate his earlier films to tell the stories of a pair of middle aged survivors, and revive two careers along the way. Seventies blaxploitation action queen Pam Grier, gracefully aging into the modern world, is the middle-aged stewardess trapped between the feds and the crooks when she's caught smuggling drugs, and forgotten character actor Robert Forster melds understated authority with the lived-in ease of age to play the world weary bail bondsman who helps her hatch a scheme to play the cops against the crooks. Dropping them into a caper film with a funky beat, Tarantino creates genre soup, shuffling his love of movie references and cult movie iconography with grown up, lived-in characters with a soul. It's a qualified success -- in giving them room to breathe he lets the caper elements go slack -- but it points to a new, mature attitude for the king of film quotes. Samuel Jackson, Robert DeNiro, Bridget Fonda, and Michael Keaton co-star.
"Kill Bill: Volume 1," Tarantino's fourth film (as he insists in the credits) returns to his old passions with a new weapon in his arsenal: a visual eye. Tarantino created the role "The Bride" for Uma Thurman, who plays the lead with fierce intensity. A professional assassin left for dead, she wakes up from a coma years later, wills her atrophied limbs to life, and embarks on a mission of revenge, though not necessarily in that order. The tale is pure pulp, a catalogue of seventies martial arts revenge dramas and American B-movie action thrillers, and the style is pure Tarantino: snappy titles, a timeline that leaps back and forth through the story, a mad mix of styles and musical references, and an attitude of loving affection for his inspirations. He has fun with the conventions and the set pieces without making fun of them. The violence is extreme but beautifully choreographed (by Yuen Woo-ping) and shot (by Robert Richardson), and the film looks better than any of Tarantino's previous work. Lucy Lui is Japanese underworld Queen O-Ren Oshii, Vivica A. Fox is the retired cohort Vernita Green, Daryl Hannah the feral Elle Driver, and David Carradine hovers over it all, heard but not seen, as Bill, with Sonny Chiba, Chiaki Kuriyama, and Tarantino fave Michael Parks making appearances.
The mood shifts in "Kill Bill: Volume 2," as the Bride resumes her mission of vengeance and the film slows her down as she nears her goal: Bill (David Carradine), the old lover who tried to murder her and now raises her child. Carradine's zen-like composure makes Bill (absent from the first film but for his voice and hands) into a philosopher warrior, older and wiser and full of regret for his actions… but not enough to stop the inevitable. Where "Volume 1" was about action, "Volume 2" is talk, Tarantino's stock in trade, and it's good (if somewhat long winded). It's also another roll call of Tarantino's cinematic loves (Village Voice critic J. Hoberman describes it as "less labor of love than religious shrine"), complete with a flashback to the Bride's martial education under an irascible old monk (Gordon Lui) directed in a recreation of a seventies Hong Kong chop-socky revenge flick. The result is odd and not always successful, and at over 2 hours may be too much of a good thing, but it is full of magnificent moments and loving details, and together with "Volume 1" it is the ultimate homage to the films that shaped the creative identity of Tarantino.
"Death Proof," originally released as his half of the "Grindhouse" double feature, stars Kurt Russell as Stuntman Mike, a psychotic stunt driver who stalks and kills young women with his car, which is (as the title promises) death proof. True to form, Tarantino turns it into the oddest genre piece to never play a drive-in, an offbeat mix of seventies car chase movie, slasher film, and femme-centered student nurse-type of softcore film (minus the softcore scenes). The plot loses itself in long, playful dialogues and lazy filmmaking rhythms, and then revs up for one of the best car chases scenes in years, real metal-on-metal stunt work just like the films he quotes through the script. Thankfully he does away with the affectation of scratches and splices for the second half, the better to see the stuntwork. Originally running about 90 minutes, the "Extended and Unrated" edition is over 25 minutes longer. Vanessa Ferlito, Jordan Ladd, Sydney Poitier, and Rose McGowan are the unlucky girls in the first half, and Rosario Dawson, Tracie Thoms, Mary Elizabeth Winstead, and real-life stuntwoman Zoe Bell (playing herself) take over for the second half with a ferocity that takes Mike by surprise.
Think of "Inglourious Basterds" as Tarantino's "Once Upon a Time in World War II," a mix of pulp fantasy, genre play, and narrative tropes resurrected with fresh takes and twists, all deliciously scripted into dialogue dances and verbal jousts. This isn't history, it's a movie fantasy scribbled in the margins and outside the lines of the war as we know it. Brad Pitt and Diane Kruger are the most familiar faces on screen but it's Christoph Waltz who walks away with the film as the cool, cultured, deliciously devious SS officer Col. Hans Landa and took home an Oscar for his efforts. It's Tarantino's finest work to date.