Streams and Channels: Kino on Hulu and Fandor
Plus Criterion for free on Hulu
By 
SeanAx
 Jul 21, 2012 11:41AM


Hulu, the online streaming service that established its dominance of TV shows on the web, just expanded its film library with 18 films from the Kino catalog, a selection that spans from film landmarks (Fritz Lang's "Metropolis" in its definitive restoration and the 1930 "The Blue Angel" with Marlene Dietrich) to contemporary international ("La Quattro Volte") and documentary ("Genius Within: The Inner Life of Glenn Gould") cinema.

Fans of the Kino library, whether it be contemporary documentary, foreign cinema, or silent and classic cinema, should also check out Fandor, which features a much larger selection of the Kino library.
Like Hulu, Fandor is a streaming service with a monthly fee (they offer a free two-week trial), but it focuses on independent and international cinema, and features the largest selection of silent movies (features and shorts) on the web. It also differs in another significant way: it deals directly with the filmmakers for some of its independent offerings.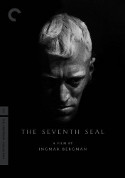 Back at Hulu, they are offering a selection of medieval-themed films from their Criterion collection for free. Through the next week you can watch Ingmar Bergman's "The Seventh Seal" and "The Virgin Spring," Akira Kurosawa's "Throne of Blood," Andrei Tarkovsky's "Andrei Rublev," and Marcel Carne's "Les Visiteurs du Soir." There are ad-supported presentations, with commercials before and after and, very briefly, during the screening, a very restrained form of commercial web TV.
For more releases, see Hot Tips and Top Picks: DVDs, Blu-rays and streaming video for the week of July 17