Elia Kazan's "America, America"
The celebrated director's most autobiographical film on DVD
"America, America" (Warner)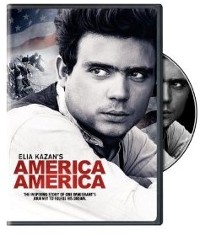 "My name is Elia Kazan. I am Greek by blood, a Turk by birth and an American because my uncle made a journey." Elia Kazan's most autobiographical film—and his first production from his own original script—is a labor of love based on family autobiography, a first-person odyssey that he shot almost entirely on location in Greece and Turkey with a largely unknown cast. Stathis Giallelis plays Stavros, a stand-in for both his uncle and himself who comes off as a Greek-American James Dean by way of Sal Mineo in an "East of Eden" where the prodigal son follows his dream and this time makes his father proud.
This journey takes nearly three hours and, while rich with detail of the life and culture of early 20th Century Turkey, it doesn't flow as much as pool around various episodes on the road of Stavros' education. Stavros spends much of the film simply observing and enduring while Kazan chalks up the injustices (political and social) that send the intense young dreamer across the ocean to the embrace of Lady Liberty. Taking his cameras (manned by rising young cinematographer and future film legend Haskell Wexler) to the motherland gives the film a dusty earthiness but the odd mix of accents, theatrical dialogue and awkward post-dubbing works against the verisimilitude. Seen through modern eyes, it's more curious artifact than profound experience, interesting but not as involving or affecting for the audience as it surely was for its creator. The film was previously available exclusively in the 18-disc "The Elia Kazan Collection." It arrives as a single-disc release with commentary by film historian Foster Hirsch.