MOD Movies: Silent Hollywood
Hollywood Landmarks and Self Portraits from the Silent Era
"Show People" (Warner Archive), from 1927, is one of the greatest of Hollywood silent movie self-portraits. It is a marvelous showcase for the talents of Marion Davies and in some ways it is the story of its star. Davies was a natural comedienne, full of warmth and sparkle and energy and sweetness, but William Randolph Hearst (her boyfriend) didn't think comedy was dignified enough for his woman and wanted to build her up as a dramatic star.
In "Show People," Davies plays Peggy Pepper, is naïve Southern girl trained in hoary stage melodrama and brought to Hollywood by a father who wants to make her a star. With her bright eyes and big smile and unassuming determination, Davies makes Peggy a delight, completely out of her element in the professional studio system but plucky enough to get over her humiliation and become a natural in the "low" comedy of slapstick while dreaming of the serious drama put out by the likes of High Art Studios, which indeed comes calling.
King Vidor rarely dipped his toes into comedy but this was his second film with Davies and he brings out the best in her and in the film, which spoofs the culture of Hollywood celebrity while celebrating the act of moviemaking. He slights neither aspect, and while his recreation of the slapstick film unit (a Keystone Kops-like team) is clearly a fiction, there is surely more authenticity to the moviemaking apparatus than we see in more contemporary films about filmmaking. And to fans of old Hollywood, the film also features some of the superstars of the era playing themselves in playful cameos, including Charles Chaplin (out of makeup), Douglas Fairbanks, William S. Hart, Mae Murray, Louella Parsons, Norma Talmadge, Lew Cody, Elinor Glyn, and King Vidor himself. He's a better director than actor and he brings a light, deft touch to this bouncy comedy. The disc features an archival synchronized score with sound effects, and the mono soundtrack is low fidelity and in some sequences quite distorted. It preserves the original release version, but more audio work needs to be done.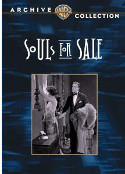 "Show People" is one of the most famous of the Hollywood silent movie self-portraits. One far less well know but almost as accomplished and just as interesting is "Souls For Sale" (Warner Archive), a 1923 feature that was lost for years and rescued in the last decade. Directed by Rupert Hughes, a prolific screenwriter who only directed a handful of films, it was the first lead for Eleanor Boardman, one of Hollywood's "good girl" stars. And it offers a marvelous, inviting sense of community in the filmmaking family on location, where our runaway heroine (fleeing a villain that could have come from a Victorian stage melodrama) is saved and adopted by the company. 
It's an odd but enjoyable mix of sensibilities, and Hughes brings a self deprecating quality to the life behind the scenes in Hollywood, where most of our characters toil in bit parts and production positions. And it even tops "Show People" in its parade of real Hollywood cameos. In addition to the bits by 1923 stars in the studio commissary or walking through the backlot, it features footage of directors Erich von Stroheim, Charles Chaplin, Fred Niblo and Marshall Neillan making actual films . The disc was released in the first year of Warner Archive releases, with a lively and engaging score by Marcus Sjowall, and deserves a second look.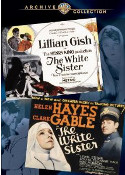 More recently, the Warner Archive released two double feature collections with silent movie classics and their early-sound-era remakes.
"The White Sister" (Warner Archive) – The original 1923 film, starring Lillian Gish and directed by Henry King (a giant of the era), a beautiful, lavish production that crystallizes what I like best in King, and what I dislike. He's a conservative religious moralist whose unforgiving attitude makes Griffith look like a socialist, and here he is at his most passionate and his most pious. Gish is the daughter of an aristocrat who is disinherited when her father dies and her scheming older sister hides the legitimate will and takes the entire fortune, casting Gish out into the world before she can marry her sweetheart (Ronald Colman). There is star-crossed love, a convent in Africa, an Arab attack, a mistaken report of death in battle, a volcano eruption, and a sequence of taking the vows staged like a church wedding to God. 
There is some major chemical degradation in some scenes, which is not uncommon to films of this age, and wear and tear through the balance of the film. At its worst you can just make out the images, but the image is always stable and the sharpness helps the eye see through the damage to the fine photography behind the scratches. Features a synthesizer score by Ben Model. The second feature is the 1933 version directed by Victor Fleming with Helen Hayes and Clark Gable.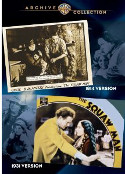 "The Squaw Man" (Warner Archive) is a Cecil B. DeMille double shot. The original 1914 feature, starring Dustin Farnum as a British gentleman who takes the blame for his cousin (who embezzles from a trust of the orphans of British war dead to pay off a gambling debt) and runs off to the American West, is legendary as the first feature film made in the guerilla film colony in faraway California known as Hollywood. The center of filmmaking was originally on the East Coast, but independent companies went West to escape the Patent Trusts and found plenty of sunshine and locations great for year round filmmaking. The story, based on a turn-of-the-century stage melodrama, is typical of western melodramas of white men in love with foreign "exotic" women, kind of a "Madame Butterfly" in chaps with, with the British rancher marrying an Indian native but still in love with his aristocrat sweetheart. 
This is primitive by DeMille standards, made before "Birth of a Nation" raised the bar on American feature filmmaking. It relies heavily on explanatory title cards and uses tableaux shots largely to illustrate what's just been told to us, and DeMille has none of the sophistication he would exhibit just a couple of years later; the art of filmmaking developed so quickly in its first few decades that you can see the grammar grow from year to year. It also leans on some, let us say, unenlightened Native American stereotypes, and while such stereotypes were common, they were by no means the rule. Features a superb original score, composed by H. Scott Salinas and performed by a small group. The second feature is the 1931 sound remake, also directed by DeMille (it was actually his third version of the story), starring Warner Baxter and Lupe Velez.
Available exclusively from Warner Archive:
"Double Feature: The White Sister (1923/1933)"
"Double Feature: The Squaw Man (1914/1931)"
MOD stands for "Manufacture on Demand" and represents a recent development in the DVD market, where slipping sales have slowed the release of classic, special interest and catalogue releases. These are DVD-R releases, no-frills discs from studio masters, ordered online and "burned" individually with every order. You can read a general introduction to the format and the model on my profile of the Warner Archive Collection on Parallax View here and on the MGM Limited Edition Collection on Videodrone here