'Rise of the Planet of the Apes' – All Hail Caesar
The new 'Apes" breathes life into the old franchise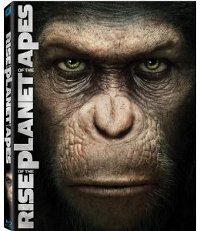 Part prequel, part reboot and part reimagined origin story, "The Rise of the Planet of the Apes" (Fox) is not simply a revival of a beloved seventies series that took a serious dive into high kitsch. It's a terrific character piece, a gripping prison break thriller with a wicked high-concept twist and the smartest action movie of 2011.
Andy Serkis will probably once again be ignored come Academy Award time, but his incarnation of Caesar, an ape with boosted intelligence (thanks to an experimental drug) raised as a member of the scientist's family, is one of the top performances of the year. The fur and the primate musculature is all computer animation but the body language and facial expressions and personality is all Serkis, the man in the motion capture suit, and he gives us an evolution of character worthy of Spartacus or Moses: He leads his people to freedom, and he does so by watching, learning, understanding and taking command as a compassionate leader.

Simply put, Caesar is more dense and complex than any of his human co-stars (including James Franco as the revolutionary -- or is that evolutionary? -- scientist, Freida Pinto and John Lithgow) and grounds the high-concept idea in a character you can't help but root for.
For such a clever and satisfying piece of science fiction writing (don't blame apes for the rise, it's all due to human hubris and recklessness) it has its logical gaps (how can a high-tech lab of animal testing and trials miss a pregnant test subject or let a human exposed to an experimental drug walk out of the facility with dangerous symptoms without even a check-up?), but they get forgotten in the thrill of the story.
"[I]t's my pleasure to report that not only does "Rise of the Planet of the Apes" not suck, but is in fact very nearly close to completely awesome, and is the best sci-fi blockbuster of the summer, in a walk, even," celebrated MSN critic Glenn Kenny in his film review. "And the climactic battle between ape and man, enacted on the Golden Gate Bridge, is more than just state-of-the-art sci-fi effects-driven filmmaking; it's utterly inspired filmmaking, period."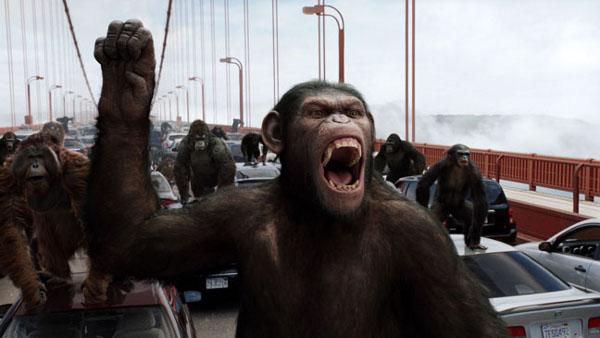 The single-disc DVD features two very brief deleted scenes (one is actually an alternate scene, shown with rough animation) and two short seven-minute featurettes, including "The Genius of Andy Serkis," which spotlights the "performance" aspect of performance capture. Just as Caesar taught his tribe to evolve, so did Serkis teach the cast of performance capture actors how to bring a CGI character to life.
The Blu-ray edition features the rest of the small zoo of supplements. Director Rupert Wyatt  provides one commentary track, writers Rick Jaffa and Amanda Silver provide the other, there are ten addition deleted scenes and a lot more supplements
For more releases, see Hot Tips and Top Picks: DVDs and Blu-rays for December 13
Are you sure you want to delete this comment?