Foreign Affairs: The beautiful desolation of Iran's 'The White Meadows'
Plus 'Sleep Tight' from Spain, 'Lapland Odyssey' from Finland, and more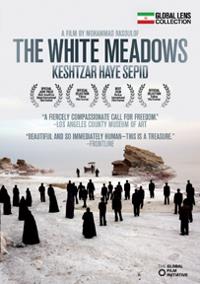 The white meadows of Mohammad Rasoulof's "The White Meadows" (Global Lens), a stunning and startling odyssey through the salt marshes of Iran's Lake Urmia, are the desert islands where almost medieval cultures exist in isolated pockets on otherwise dead lands. The salt that coats every beach white has left this place bereft of vegetation, giving it an almost alien, otherworldly atmosphere: a visit to a small planet. And just as the salt chokes the life out of the land and water (there are no birds and precious little marine life), so does it starve the respective cultures, cut off from the rest of the world but for a boatman, Rahmat (Hasan Pourshirazi), the only outsider welcome in these lands. He is the "tear collector," who comes to hear their woes and take away their sorrows by collecting their tears in a glass vial.
The mythology and cultural practices are more fictional creation than historical reality but they have the resonance of myth playing out in a place that is, practically speaking, out of time, with only stray clues (mostly in the coda) placing it in, more or less, the present. The various islands could be Rasoulof's answer to Jonathan Swift's "Gulliver's Travels," relocated to an Iranian sensibility and contemporary political and religious reality. Brutal rituals (human sacrifice, politely referred to as a "marriage" and treated as a holy honor by all but the virgin bride) and punishments abound and a culture of conformity and intolerance rules, maintained by an unquestioned patriarchy that keeps the culture locked in a surreal state of blind obedience bordering on madness. Rebels, be they runaways, heroes, or artists with individual visions, don't survive the smothering culture.
That part isn't just metaphor. Just as the artist in "The White Meadows" is punished for his "incorrect perceptions" and imprisoned to prevent his disease from spreading, Rasoulof is currently serving time for his artistic "crimes" (along with other Iranian filmmakers). Rasoulof anticipated his own fate.
In Farsi with English subtitles. Features a discussion guide with director bio and film notes. DVD only.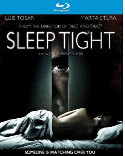 Plus:
"Sleep Tight" (Dark Sky), a Spanish thriller from Jaume Balagueró (co-director of the original "[REC]"), stars Luis Tosar as the handyman of a Barcelona apartment complex. This misanthrope dedicates his life to making the lives of the tenants miserable and as his pranks become increasingly insidious, he walks the edge of psychopathic obsession. A.V. Club film critic Noel Murray writes that Balagueró "has a fine control of pacing and tone, and is able to keep "Sleep Tight" gripping throughout, right up its shocking final act." Spanish with English subtitles. Blu-ray and DVD, with a featurette. Reviews here.
"Lapland Odyssey" (Artsploitation) is a Finnish road movie comedy about three fun-loving slackers who get sidetracked on a trip to pick up a cable box for the apartment. The farce by Dome Karukosi was the biggest hit of 2010 in Finland and the DVD features a short film by the director, "Burongo," and a booklet with notes on the film and an interview with the director. Reviews here.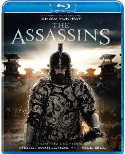 Chow Yun-fat stars in "The Assassins" (Well Go) as a prime minister in the Han Dynasty who makes a play to become the emperor while conspirators plot against him. Mandarin and English language soundtracks with optional English subtitles. Blu-ray and DVD, with a featurette. Reviews here.
"Found Memories" (Film Movement), a drama from Brazil, chronicles the unchanging lives of the inhabitants of a small village where time stands still, and the reverberations when a young photographer comes to town and befriends one of the old villagers. In Portuguese with English subtitles. The DVD also features the short film "Land of the Heroes" from Belgium. Reviews here.
For more releases, see Hot Tips and Top Picks: DVDs, Blu-rays and streaming video for week of January 8