Blu-ray Round-up: Jean Renoir's 'La Grande Illusion'
Plus the original 'Total Recall' remastered, 'Forever Marilyn,' and more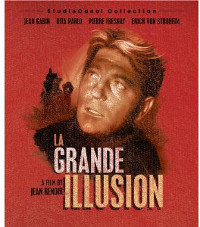 John Garfield was at the height of his fame and his talent when he made "Body and Soul" (Olive), one of the great boxing dramas and arguably the definitive boxing noir of talent and drive corrupted, and "Force of Evil" (Olive), a more quietly subversive and corrosive film noir of family, business, and brutal competition. Videodrone's review is here.
"La Grande Illusion" (Lionsgate), made on the eve of World War II but set during World War I, is ostensibly an prison camp escape adventure but is really about class, race and cultural identity among a quartet of officers: working class Jean Gabin (whose early career was built on such proletariat heroes), cultured aristocrat Pierre Fresnay, Jewish nouveau riche Marcel Dalio, and Prussian blueblood Erich von Stroheim, their German jailer. Renoir and co-scenarist Charles Spaak wear their hearts and minds on their tattered sleeves – the script far too often voices the obvious – but Renoir brings his points home in moving moments woven through the film. The final scene between Stroheim and his prisoner Fresnay, with whom he feels more at ease with than his own men, is one of the most poignant in his career. It's an elegant, lovingly detailed drama brought to life through the richness of Renoir's humanity.
The Blu-ray debut comes from a StudioCanal restoration from the original camera negative and it is beautiful. Film archivist and restoration elder statesman Robert Harris praises the work at The Home Theater Forum: "Lionsgate's new Blu-ray of Renoir's Grand Illusion is as perfect as it can possibly be. No downsides. Just gorgeous!"
Features a 12-minute introduction to the film by cinema professor and film critic Ginette Vincendeau, the French language featurettes "The Original Negative " (with Natacha Laurent of la Cinémathèque de Toulous telling the history story of the negative's survival) and "Success and Controversy" (with cinema expert and Jean Renoir specialist Olivier Curchod), an interview with script doctor John Truby on the screenplay, and a restoration comparison. In French and German with subtitles.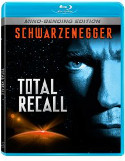 "Total Recall" (Lionsgate), the original take with Arnold Schwarzenegger, gets a new "Director Approved" Blu-ray release (this one branded the "Mind-Bending Edition") in advance of the remake with Colin Farrell. Under director Paul Verhoeven's care, this sci-fi extravaganza (more inspired by than adapted from Philip K. Dick's short story "We Can Remember It For You Wholesale") becomes a loud, violent spectacle about revolution and corporate piracy and his cynical sensibility sometimes feels like just another volley in the ultra-violence (it had to be trimmed to get an R). Underneath the blood and sadism, however, is a play with identity and reality: The film unravels layers of memory implants and fantasies in the mind of Schwarzenegger's hero and Verhoeven never tips his hand as to what's real (if anything) and what's just the virtual vacation adventure promised and delivered by the smarmy Rekall travel agent. It co-stars Sharon Stone as Schwarzenegger's loving wife with a vicious streak, Michael Ironside, Rachel Ticotin, and Ronny Cox.
Along with the supplements from the previous Blu-ray releases (including commentary by Schwarzenegger and Verhoeven, who have own idea about what's really going on in the film and make their case with the glee of conspiracy buffs as they point out every clue and discuss every twist in perspective, and two featurettes) are an all-new interview with director Verhoeven and a restoration comparison of the new high-definition from the original negative.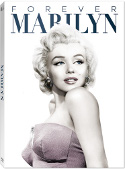 "Forever Marilyn Collection" (Fox) features the respective Blu-ray debuts of five Marilyn Monroe films, both individually and in a box set: "How to Marry A Millionaire," "Gentlemen Prefer Blondes," "Seven Year Itch," "There's No Business Like Show Business," and "River of No Return." The box set also includes previously-released "The Misfits" and "Some Like It Hot."
"First Born" (Olive), a 1984 drama directed by Michael Apted, is a domestic thriller about the two sons (Christopher Collet and Corey Haim) of a single mother (Teri Garr) who decide to save her from her shady new boyfriend (Peter Weller). "Fire With Fire" (Olive) stars Virginia Madsen and Craig Sheffer as teens in a Romeo and Juliet romance. No supplements on either of these Olive releases from the Paramount catalog.
For more releases, see Hot Tips and Top Picks: DVDs, Blu-rays and streaming video for the week of July 31