Family Release of the Week: Tangled
Rapunzel has a song in her heart and pluck in her personality in Disney's 50th feature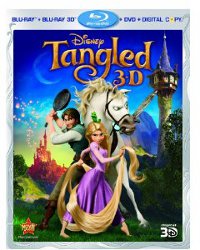 "Tangled" (Disney)
After stumbling through their own in-house CGI animated features, Disney (with a little guidance from Pixar's creative leader and new Disney animation czar John Lasseter) finally finds the right balance of classic animation magic and contemporary sensibility with this comic musical adventure version of the "Rapunzel" fairy tale. And it does so without superstar casting or a surfeit of pop-culture references. This one features a plucky little girl with an epic mane of magic hair that glows when she sings (Mandy Moore), a dashing rogue of an outlaw who ends up a partner on her quest (Zachary Levi), a stepmom who walks all over her self-esteem (Donna Murphy), a chameleon with a wry sense of humor, a horse that thinks he's a dog and a rogues gallery of hard-bitten thugs with a dream in their hearts.
"It eventually establishes itself as not just a fleet and engaging cartoon entertainment, but something of a latter-day classic, what Jean-Luc Godard would call "un vrai Disney film," worthy of consideration alongside such beloved post-Walt fare as, yes, "Beauty and the Beast"," writes MSN critic Glenn Kenny. "The picture goes from strength to strength… with nifty funny-animal comic bits courtesy of a law-enforcement-frea​k of a horse and a droll chameleon, antics from lovable supporting roughnecks, and some amazing animation set pieces, culminating in a love ballad set against a backdrop of floating lanterns that's among the most dazzling pieces of moving artwork executed in any animated movie, Disney or otherwise, ever."
Disney releases the film in three different incarnations: a single-disc DVD, a two-disc Blu-ray+DVD Combo Pack and a 4-Disc Blu-ray Combo pack which features a Blu-ray 3D version of the film along with a Blu-ray, DVD and digital copy.
The DVD features two unused "Storybook Opening" versions of the prologue (both in unfinished form), each with an introduction by the directors, and the two-minute "50th Animation Feature Countdown" tour of every Disney animated features through brief clips.
You have to upgrade to Blu-ray for the rest of the extras. "Untangled: The Making of a Fairy Tale" is a light, trivia-laced 12-minute featurette hosted by Mandy Moore and Zachary Levi that traipses through the development process. There are three deleted scenes (in unfinished form) with director introductions, extended versions of two songs, nine tongue-in-cheek "Tangled Teasers" done up as parodies of TV commercials, news alerts, educational films and such for Internet promotion.