Blu-ray Round-up: James Cameron's Other Titanic Film
Plus 'The Sound and the Fury' and 'Steel Magnolias'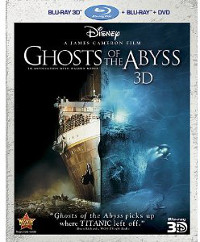 James Cameron's romantic epic "Titanic" (Paramount), at the time the most expensive film ever made and the biggest moneymaker of all time, winner of a record-tying 11 Academy Awards (including Best Picture and Best Director), and the film that made Cameron the self-proclaimed "king of the world," makes its long-awaited Blu-ray debut in both Standard Blu-ray and Blu-ray 3D sets. Videodrone's review is here.
James Cameron returned to Titanic for his IMAX documentary "Ghosts of the Abyss" (Disney), which uses underwater robots and state-of-the-art submersibles to explore the wreck of the once great ship, and digital effects to create the ghosts promised in the title. It makes a great companion piece to "Titanic" and makes its debut on Blu-ray in both 2D and 3D editions (the latter requires a full HD 3D TV, compatible 3D glasses, and a Blu-ray 3D player). Features both the original 60-minute version that played in IMAX theaters and an expanded 90-minute version (presented standard 2D only), both narrated by Bill Paxton, and the featurette "Reflections From the Deep," which includes unseen footage from dives to the ocean floor.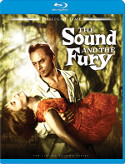 Yul Brynner and Joanne Woodward star in "The Sound and the Fury" (Twilight Time), the feature film adaptation of William Faulkner's novel from Martin Ritt and screenwriters Irving Ravetch and Harriet Frank Jr., his longtime collaborators (they also wrote "Hud" and "Norma Rae" for Ritt). Features an isolated audio track with Alex North's score and a booklet with notes on the film by Julie Kirgo. Available exclusively from Screen Archives.
"Steel Magnolias" (Twilight Time), a femme-centered serio-comedy starring Sally Field, Dolly Parton, Shirley MacLaine, Daryl Hannah, Olympia Dukakis, and Julia Roberts as the regulars in a small-town beauty salon in Louisiana, expands the six-character play to include a few men (Tom Skerritt, Dylan McDermott, Sam Shepard) and some scenes outside the salon. Features commentary by director Herbert Ross (recorded for an earlier DVD release) and an isolated audio track with George Delerue's score and a booklet with notes on the film by Julie Kirgo. Available exclusively from Screen Archives.
For more releases, see Hot Tips and Top Picks: DVDs, Blu-rays and streaming video for week of September 11