Pirates of the Blu-ray Box
A new Blu-ray box set of the Pirates of the Caribbean Trilogy debuts
By 
SeanAx
 Mar 10, 2011 10:15AM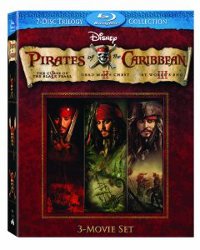 "Pirates of the Caribbean Trilogy: Seven Disc Blu-ray Set" (Disney)
Buried under kerchief, blousy shirt, and the make-up of a heavy metal fashion victim, Johnny Depp bobs and weaves his way through the hit pirate trilogy as Jack Sparrow, a black pirate come high seas con man with a heart of tarnished stolen gold. He seems to have stumbled in from his own private movie but fearlessly makes his home in "Pirates of the Caribbean: The Curse of the Black Pearl," a tale of an Aztec curse that turns a vicious crew of plunderers into the walking dead on a haunted ship that floats in a haze of mist and smoke. Geoffrey Rush "Argh"s and "Matey"s his way through the film like an old Hollywood ham and the dashing Orlando Bloom and the spunky Keira Knightley (as the obligatory cute romantic leads) play along with as much enthusiasm.

The first film is the best of the three (to date) films in the comic adventure franchise inspired by the Disneyland theme park ride. The unexpectedly light touch of director Gore Verbinski (late of "Rango") gives this high spirited comic swashbuckler a playful tone without sinking it into self parody. He puts a Jackie Chan flourish of high energy and gymnastic action on the swashbuckling stunts and old-fashioned swordplay and keeps this lark sailing along so swiftly and smoothly that you hardly notice the 135 minute running time until the ride is over. A slight but disarmingly entertaining surprise, which isn't the case with the next two films.
Depp, Bloom and Knightley reunite with Verbinski and their flouncy swashbuckling fashions for the brisk, busy and inconsequential sequel "Pirates of the Caribbean: Dead Man's Chest," which has something to do with an enchanted compass, the fabled chest of the title, and Davy Jones (Bill Nighy) himself, a part man and part mollusk oceanic demon. But it's less a story than a "Raiders of the Lost Ark"-styled swashbuckler by way of a big-screen theme-park ride, pumped full of special effects and goofball comedy and driven by video-game logic. Jack Davenport, Jonathan Pryce, Mackenzie Crook, and Kevin McNally are also back, with Stellan Skarsgård joining the cast as Bloom's cursed father, Tom Hollander as a corrupt new island governor, and Naomie Harris as a cackling fortune-teller.
And it gets even more abstract by the bigger, busier and even longer "Pirates of the Caribbean: At World's End," which brings back former zombie pirate Captain Barbossa (Geoffrey Rush) from the first film to lead the party to rescue Jack from Davy Jones' Locker (for reasons that are vague at best). There are so many details crammed into the plot that it's easy to lose track, not that it ultimately matters. Verbinksi directs with such stylistic momentum that you just take the narrative progression on faith, even as the large-scale imagery collapses into colorful noise on the video screen. Luckily Depp is on hand to stagger and strut through the film, the oblivious life of the party and the only character who doesn't take any of this pumped up prattle seriously. Chow Yun-fat looks great and does little as a Chinese pirate king, Naomie Harris goes all attack of the 50-foot voodoo priestess, and Keith Richards makes a cameo as the keeper of pirate lore.
This new Blu-ray set boxes up the previously-released two-disc editions of each film, with all their commentary tracks, documentaries, featurettes and other supplements, along with a new bonus disc featuring almost an hour of previously unseen deleted and extended scenes from "Dead Man's Chest" and "At World's End" (with optional commentary by director Gore Verbinski) and "On Stranger Tides Revealed," which at just under three minutes is little more than an extended trailer for the upcoming "Pirates of the Caribbean: On Stranger Tides."