'Transformers: Dark of the Moon' - Giant Robot Redux
Michael Bay's third rock 'em sock 'em giant robot spectacular is all action and no sense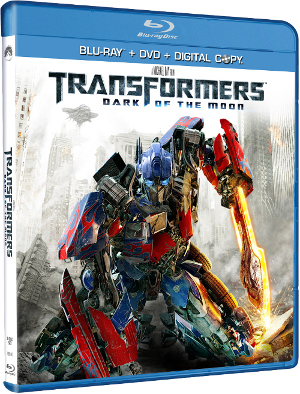 "Transformers: Dark of the Moon" (Paramount), Michael Bay's third rock 'em sock 'em giant robot spectacular, was shot and designed for 3D, a format that forced the director to slow his chaotic editing down and create a coherent action canvas. While the DVD and Blu-ray are standard format, they too benefit from the restraint: you can actually see the transformations unfold and the action play out. It's just the story that makes no sense.
What passes for a screenplay involves the discovery of Sentinel Prime, the former leader of the Autobots, on the dark side of the moon, and the Decipticon plot to enslave humanity to rebuild their homeworld. At least, that's the part that doesn't concern once and future hero Sam Witwicky (Shia LaBeouf) trying to land a job. Seriously, the kid who save saved the world -- twice -- and essentially signed the greatest living weapons in the universe to an exclusive partnership with the American military can't land a job, merely a supremely hot and utterly vacant new model girlfriend (Victoria's Secret model Rosie Huntington-Whiteley in her acting debut, though there's less action than posing and walking around seductively in runway fashions and underwear) and an absurdly luxurious Washington D.C. loft. What, no one in the Defense Department will give the guy a letter of recommendation?
Anyway, after an ingenious hook of an opening scene, Bay and screenwriter Ehren Kruger pile on caricatures (John Turturro as the obsessive Agent Simmons, John Malkovich as eccentric software genius Bruce Brazos) and comedy scenes (special credit to Alan Tudyk, who vamps tired bits with madcap commitment and wild intensity) until Sentinel Prime is revived with the voice of Leonard Nimoy (complete with gratuitous "Star Trek" gag) and the evil Decipticon scheme is revealed. Then the film revs up for an hour of non-stop combat. Because when you get down to it, this is a movie about giant alien robots who go to war in Chicago and destroy half the city along the way. Who needs a story?
"Transformers: Dark of the Moon" has all the advantages and the overkill of CGI heavy spectacle and Bay crams the screen with virtual mechanics in constant motion, but he also has a feel for the liquid quality that CGI can deliver and he gives the robot motion a grace that belies the size and scale of the destruction. It's kind of fun to watch unfold (quite literally, when it comes to the Transformers in the act of transforming) and Bay's slower cutting results in some impressive camerawork and whiplash visual momentum.
So as heavy metal fantasy spectacle, "Transformers: Dark of the Moon" is impressive, but on the small screen, the fine detail of big screen spectacle doesn't have the same power to overwhelm the senses. When you shrink the scale down, storytelling starts to matter and, whatever you feel about Bay as an entertainer, he's more about momentum than logic or narrative coherence. The story lurches from scene to scene, sometimes even shot to shot, leaving it to us to bridge the narrative gap or simply not care about it. You either take it on faith that the succession of scenes and exposition actually add up to a story and enjoy the ride, or sink 2 ½ hours into the most expensive abstract disaster film ever made.
More from MSN film critic Glenn Kenny: " There's an incredible, and incredibly virtuosic amount of intricate production and effects design and execution, not to mention stunt work, on display here; and the old cliché about every dollar of the budget being visible onscreen really holds here, too…. The real problems of the film are, of course, all too evident during the non-action sequences, in which Bay and screenwriter Ehren Kruger combine to come up with some of the most vulgar, prolix and crass views of work, love and familial relationships, and every other aspect of life possible."
Released on single-disc DVD and Blu-ray+DVD Combo Pack on Friday, September 30. No supplements on either release, except for a bonus digital copy with the Blu-ray release. Expect a special edition and a Blu-ray 3D version by the holidays.
For more releases, see Hot Tips and Top Picks: DVDs for September 27

Sean, for someone who does a lot of Movie based articles and research, you think you could have done your research and spelled "Decepticons" correctly.  Even this comment post has a "Check Spelling" link at the bottom of it.  Not that it knows what the Decepticons are or how to spell check for it, but you get my point; I hope.
Are you sure you want to delete this comment?