Blu-ray Round-up: A quartet of schemers and shadows in 'Film Noir Collection: Volume 1'
Plus 'Dark Star,' 'My Big Fat Greek Wedding,' the complete 'Harold & Kumar,' and more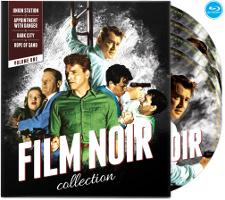 "Lawrence of Arabia: Fiftieth Anniversary" (Sony) is an exhaustive 8k digital restoration of David Lean's masterpiece, building on the chemical restoration of the 1980s with newly-available digital tools. It's also one of the most beloved film classics, most intelligent cinema epics, and most anticipated Blu-ray releases ever. It debuts in a two-disc edition and four-disc Limited Edition box set. Videodrone's review is here.
"Bonjour Tristesse" (Twilight Time), one of the chilliest masterpieces from Otto Preminger, stars David Niven as a gadabout bachelor playboy on the French Riviera and Jean Seberg as his petulant daughter and partner in social party-going. And on the subject of Preminger, "The Otto Preminger Collection" (Olive) presents the respective Blu-ray debuts of three more films: "Hurry Sundown," "Skidoo," and "Such Good Friends." Reviewed on Videodrone here.
"Film Noir Collection: Volume I" (Olive) presents four films previously available on DVD only: "Rope of Sand" (1949), "Union Station" (1950), "Dark City" (1950), and "Appointment with Danger" (1951).

"Rope of Sand," set in the unforgiving desert badlands and cutthroat diamond trade of North Africa, with a cast that could be the burned-out, ruthlessly mercenary evil twins of "Casablanca," recasts the exotic thriller with a noir sensibility under the harsh light of a desert sun. Burt Lancaster is the American hero, turned bitter and vengeful after his mistreatment at the hands of the sadistic head of security of the diamond company, and Corinne Calvet ("introduced" to American audiences here) the doll-faced femme fatale Suzanne, a mercenary gold-digger whose first act is to blackmail middle-aged company man Arthur Martingale (Claude Rains).
Director William Dieterle really sinks his teeth into competitive play of blackmail, double-crossing and betrayal and keeps the edge on even as a couple of characters reveal a conscience by the end. And he nicely shifts the film from the hard daylight of the desert, the shadows more about the heat of the sun than the darkness of the soul, into a nocturnal world. It makes for one of the most engagingly entertaining artifacts on the margins of film noir.
Charlton Heston made his Hollywood debut as the stony leading man of "Dark City," a hard-hearted veteran turned gambler who becomes hunted by a psychotic killer out to revenge one of his marks. Heston doesn't have much dimension beyond his flinty gruffness and emotional distance but he's got confidence, strength and a solid screen presence that anchors the film. Lizbeth Scott is his soggy sometime girlfriend, Viveca Lindfors the widow who melts his icy heart and Dean Jagger, Don Defore and Ed Begley co-star, and watch for Jack Webb as a sneering hyena of a bully and Harry Morgan as the target of his grinning cruelty: the future "Dragnet" team as uneasy partners in crime. Also directed by William Dieterle, one of the modest pros of the classic studio era.
The set is filled out with "Union Station," starring William Holden, and "Appointment With Danger," starring Alan Ladd. These aren't the classics of genre but they are interesting artifacts in a genre defined by style and attitude, and with so little classic film noir on Blu-ray, it makes for an attractive package for the die-hard fan. Four discs in a single case with hinged trays, not available separately.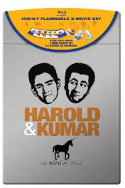 "Harold & Kumar Blu-ray Ultimate Collector's Edition" (Warner) wraps up the entire stoner comedy trilogy in a silly high-concept package: a giant mock-lighter. For lighting up, get it? Give the comedies credit for laying it all out in the titles. In the original "Harold & Kumar Go To White Castle" (2005), the best friend and roommates (played by John Cho and Kal Penn) get stoned, get the munchies, and take a tour through a "Twilight Zone" of sex fantasies, hillbilly horrors, homophobic hysteria, and racial stereotypes on a hamburger run. "Harold & Kumar Escape From Guantanamo Bay" follows suit and makes good on the promise of its title, and "A Very Harold & Kumar Christmas" brings the stoner comedy duo back for one more drug-fueled odyssey, this one with a holiday theme. Neil Patrick Harris guest in each installment as a sleazy, sex-addicted, crack-smoking miscreant version of himself and even tosses in a holiday song and dance in the final episode. The films themselves are offered in the same extended editions previously available with all the supplements intact and collected in a single, efficient case. The metallic lighter/secret stash package, meanwhile, includes White Castle® -scented car fresheners and White Castle®-scented drink coasters. Dude! It's dope!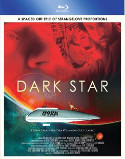 "Dark Star" (VCI), John Carpenter's ultra-low budget feature debut, is his answer to Stanley Kubrick's metaphysical ponderings of "2001," a grungy, darkly humorous declaration that boredom and human slovenliness will win out over technology and high ideals. Begun as a college project at USC and expanded for theatrical distribution, the Blu-ray debut presents that expanded version along with the two-hour documentary "Let There Be Light: The Odyssey of Dark Star," bonus interviews, and other supplements.
"My Big Fat Greek Wedding: 10th Anniversary Special Edition" (Lionsgate) celebrates the indie romantic comedy by writer/star Nia Vardalos, playing a quiet, devoted daughter in a big Greek family who transforms herself from mousy shrinking violet to modern woman. The modest tale of love overcoming culture is a sweet pastry of a film, flaky and overly sugared, but in 2002 it became a word of mouth hit and ended its run with over $200 million in admissions. The Blu-ray+DVD Combo Pack includes a new retrospective documentary with Vardalos and co-star John Corbett plus the original commentary by Vardalos, Corbett, and director Joel Zwick, deleted scenes, and a bonus digital copy for download and UltraViolet copy for instant streaming.

In "Bill & Ted's Excellent Adventure" (Fox), Keanu Reeves and Alex Winter are, like, these totally cool dudes whose music saves the world… or will, if they can pass high school. And learn to play their instruments. While it has a tendency to be dumb and witless, at times it's pretty funny, largely due to the sweet, slack-jawed performances of Reeves and Winter as dumbfounded idiots who stumble through time to cram for their history final. With the interview featurette "The Original Bill and Ted: In Conversation with Screenwriters Chris Matheson and Ed Solomon," an air guitar tutorial, and an episode of the 1990 animated "Bill & Ted" series.
"The Rains Of Ranchipur" (Twilight Time), the 1955 color remake of the 1939 "The Rains Came," stars Lana Turner as a femme fatale transformed by the benevolence of an Indian doctor (played by the decidedly Caucasian Richard Burton). The Twilight Time release features its usual isolated score track and a booklet with notes by Julie Kirgo. Available exclusively from Screen Archives.
"Friends: The Complete Series" (Warner) and "The Dick Van Dyke Show: The Complete Series" (Image) both debut on Blu-ray ray in box sets, just in time for the holiday gift season. Reviewed on Videodrone here.
And debuting on Blu-ray 3D are three episodes of the History Channel science series "The Universe in 3D" (History), in a box set of three separate discs. The collection "History in 3D" (History) boxes up three previously-released documentary programs: "WWII in 3D," "Titanic: 100 Years in 3D," and "History of the World in Two Hours."
For more releases, see Hot Tips and Top Picks: DVDs, Blu-rays and streaming video for the week of November 13