Cool, Classic and Collectible: The Border Cultures of 'Alambrista!' and 'From the Other Side'
Plus 'The Getting of Wisdom,' Roger Corman's 'Nurses,' and more
"¡Alambrista!" (Criterion), from director Roger M. Young, is one of the independent-minded filmmaker's social dramas, this one about an undocumented Mexican farmworker struggling to make enough in California to support his family back home. Young conducted his own research and shot the film in a semi-documentary style. New York Times film critic Janet Maslin described it as "a small, gentle, beautifully made film about a subject that might, in more conventional hands, have received either harsher or more histrionic treatment" in her 1979 review. Criterion's release features commentary by Young and co-producer Michael Hausman, Young's 1973 short "Children of the Fields," and new interviews with Young and actor Edward James Olmos, plus a booklet with an essay by film historian Charles Ramírez-Berg. Blu-ray and DVD.
"The Getting of Wisdom" (Kino Lorber), the 1977 Australian feature from Bruce Beresford, stars Susannah Fowle as Laura Tweedle Rambotham, a young woman who defies convention and resists the efforts of a Victorian-era finishing school in Melbourne to mold her into a proper young woman. Based the best-selling Australian novel by Henry Handel Richardson, this is the film that started to get Beresford international attention. The disc features the documentary "Telling Schoolgirl Tales." DVD only.
"From the Other Side" (Icarus) is French filmmaker Chantal Akerman's contemplation of the border culture between the U.S. and Mexico, featuring interviews with citizens on both side of the border. The two-disc set also features Chantal Akerman's 1999 film "South," which began as a portrait of the American south and turned into an essay on James Byrd Jr., who was beaten and dragged to his death from the back of a pick-up truck. DVD only.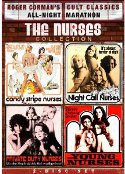 "Roger Corman's Cult Classics: The Nurses Collection" (Shout! Factory) – A veritable sub-genre all its own created by legendary producer Roger Corman, the "Nurses" film are part soap opera, part sex comedy, and all drive-in exploitation with a twist: the women in these movies are sexually, socially, and politically active. "Roger Corman's Cult Classics: The Nurses Collection" (Shout! Factory) collects four of the five films from the soft-core drive-in cycle. George Armitage, the future director of "Miami Blues," made his directorial debut with "Private Duty Nurses" (1971), about a trio of babes in uniform who sign on to an experimental program in a metropolitan hospital that throws them into the midst of institutional racism, drug traffickers, and murder. Armitage also wrote "Night Call Nurses" (1972), which was the directorial debut of Jonathan Kaplan ("The Accused"), which opens on a shocking suicide scene and then sends its trio of nurses into psych wards, emergency rooms, and suicide watches. "Night Call Nurses" co-star Clint Kimbrough graduated to his only film as a director with "The Young Nurses" (1973), about three women who take on a drug ring operating out of their hospital and hit the beach on their days off. Samuel Fuller, Sally Kirkland, Allan Arbus, and Mantan Moreland co-star in this one. "Candy Stripe Nurses" (1974), the fifth and final installment, stars Candice Rialson, Robin Mattson, and María Rojo as the naïve young things who get quite an education on the job. Two discs. DVD only.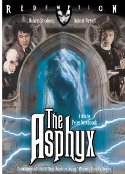 Plus:
"The Asphyx" (Kino Lorber), a British cult horror with Robert Stephens and Robert Powell as scientists attempting to capture the power of an ancient god. Features both the 86 minute British version and the extended American cut. Blu-ray and DVD.
"High Road to China" (Hen's Tooth), a lighthearted 1983 adventure with Tom Selleck as twenties-era aviator, arrives on Blu-ray and DVD.
For more releases, see Hot Tips and Top Picks: DVDs, Blu-rays and streaming video for April 17