Videodrone Classic: Douglas Fairbanks is a jaunty 'Thief of Bagdad'
The first action hero in a grand screen fantasy
By 
SeanAx
 Feb 20, 2013 10:13AM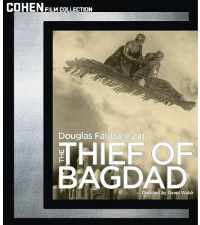 Douglas Fairbanks was the first action hero and "The Thief of Bagdad" (1924) (Cohen), a lavish adaptation of the Arabian adventure fantasy "A Thousand and One Nights" directed by Raoul Walsh from a script by Fairbanks, is one of the grandest and most glorious spectacles of the silent era.
Fairbanks swaggers through massive marketplace sets and cavernous throne rooms as an incorrigible thief and pickpocket, scaling towering castle walls (with the help of a magic rope) and leading palace guards on a merry chase through crowded bazaars until he falls in love with the beautiful princess and vows to win her heart and her hand. And that's just the first act! Racing three kings to retrieve the rarest treasures known to man, the lovesick thief dashes through caverns of fire, battles a smoke belching dragon, dives for underwater treasure guarded by a spider, rides a flying horse, and creates an army out of nothingness with magic powder.
This is a film of magnificent sets, a cast of thousands, and one magical set piece after another. Ever the canny businessman, Fairbanks bought the American rights to Fritz Lang's dark fantasy "Der Mude Tod" (aka "Destiny") just so he could lay claim to the flying carpet effects showcased in the film. He kept the film off American screens until "Thief" was released so he could debut the magic carpet ride himself. Toss into this the magic rope, a crystal ball, and sets right out of storybook pages (gorgeously and ornately designed by William Cameron Menzies to the epic scale preferred by Fairbanks), and you have a spectacular fantasy that may show its seams but never loses its sense of wonder. The adventure concludes in a torrent of movie magic that cascades nonstop through the breathless final hour. Through it all, Fairbanks commands the screen with a hearty laugh, a graceful athleticism, and jaunty joy of life.
It looks superb Blu-ray and DVD, a beautifully mastered presentation with color tints and a big orchestral score composed and conducted by Carl Davis. Features commentary by Fairbanks biographer Jeffrey Vance and a 17-minute video essay featured promotional and production stills and brief explanatory notes by Vance, set to an excerpt from the film's score.
For more releases, see Hot Tips and Top Picks: DVDs, Blu-rays and streaming video for week of February 19