Coming Up: "The Dilemma" in May
plus "The Way Back" and "Gulliver's Travels" with Jack Black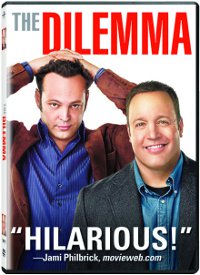 "The Dilemma" (Universal), the Ron Howard-directed comedy starring Vince Vaughn, Kevin James, Jennifer Connelly and Winona Ryder, has been announced for a May 3 release on DVD and Blu-ray. The DVD details haven't been released yet, but as with most big comedy releases, it will have its share of deleted scenes and gag reels and interviews, plus an alternate ending is promised.
Peter Wier's "The Way Back" (Image) arrives on DVD and Blu-ray on April 19. Ed Harris, Jim Sturgess, Saoirse Ronan and Colin Farrell star in the dramatic adventure odyssey about an escape from a Siberian gulag in the early days of World War II.
Jack Black is the bigger-than-life star in the slapstick version of "Gulliver's Travels" (Fox), which arrives on two-disc DVD and three-disc Blu-ray+DVD Combo Pack on April 19. Both editions will be stocked with supplements.