'Detention' Giveaway
Enter to win the movie and gift pack filled with goodies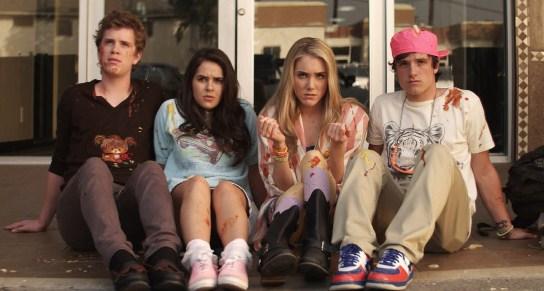 In honor of the premiere of "Detention" being released on DVD and Blu-ray, MSN Movies is giving away a prize pack which includes a copy of the movie along with fun goodies.
Bing: More about 'Detention'
Starring Josh Hutcherson, Dane Cook and Spencer Locke, this hipster, teen horror-comedy chronicals the lives of the local students of Grizzly Lake. These teens must survive their final year of high school and standing in their way is Cinderhella, a slasher-movie killer who has seemingly come to life and is preying on the school's student body. As the clock ticks and the bodies pile up, the likely suspects are embroiled in a race against time to stop Cinderhella and ultimately save the world... if only they can get out of detention.
Enter to win by following these steps:
1. Like MSN Movies Facebook and follow MSN Movies Twitter
2. Tweet and comment the following message: I want to win the @MSNmovies #DETENTION prize pack!
3. Stay in touch with MSN Movies Facebook to see if you've been selected as the winner!
Entries are accepted until Friday, August 17. Good luck, MSN Movies fans!
For more releases, see Hot Tips and Top Picks: DVDs, Blu-rays and streaming video for the week of July 31
Are you sure you want to delete this comment?