Coming Up: New on Blu-ray
"Papillon," "Dogtooth," Dario Argento and Cecil B. DeMille debuts on Blu-ray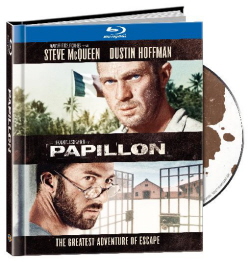 Warner releases the "Papillon" (Warner), the escape from Devil's Island thriller starring Steve McQueen and Dustin Hoffman, on May 24. It's in the Blu-ray book packaging (which I find a fairly handsome alternative to the classic disc case) but, according to the announcement, extras are limited to a single vintage featurette.
"Dogtooth" (Kino) was released on DVD last week, the very day the film received an Oscar nomination for Best Foreign Language Film. So late last week, Kino announced their intention to release a Blu-ray edition on March 29. Box art not yet available.
Blue Underground continues its systematic upgrade of its cult DVD catalogue to Blu-ray with two more Dario Argento classics from the seventies: "The Cat O'Nine Tales," announced for May 31 release, and "Deep Red," for April 26. (Okay, the latter is not a new announcement, merely new art, but it's a good excuse to show off the cover.)
Cecil B. DeMille's "The Ten Commandments" (Paramount) comes out in three versions: a new DVD set, a two-disc Blu-ray debut, and a DVD/Blu-ray Gift Set that also includes the original 1923 version of the film, an exclusive feature-length documentary on the making of the film and the tablets (note: not the originals). Set for March 29 release.