Cool and Classic: Get animated with 'The Point' and 'Mark Twain'
Plus India underground with 'Gandu,' 'The Hi-Lo Country,' and more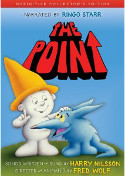 "The Point: Definitive Collector's Edition" (MVD Visual) presents the 1971 animated musical fable written by Harry Nilsson in a new edition. Ringo Starr narrates this version (Dustin Hoffman did the honors for the original TV showing) and Nilsson performs the songs, which include "Me and My Arrow" and "Think About Your Troubles," a cosmic song for kids. It's all for kids, of course, and the delightful story about a round-headed boy in a world of pointy heads on an odyssey to find his place, is a timeless theme. The new DVD edition features
Less well known (and deserving more attention) is "The Adventures of Mark Twain" (Magnolia), the 1985 Claymation feature from Will Vinton Studios. The fantasy adventure of the author (voiced by James Whitmore) chasing Halley's comet on a flying ship where his fictional creations (Tom Sawyer, Huck Finn, and Becky Thatcher) have stowed away, draws pieces from numerous stories and novels. The film has been newly remastered for DVD and Blu-ray and features new commentary by director Will Vinton, almost an hour of interview with his collaborators, the 17-minute "The Story of Claymation," and a short behind-the-scene featurette among the supplements.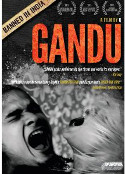 "Gandu" (Artsploitation), which means "a**hole" in Bengali, is a grungy, anti-Bollywood musical drama from India, shot in B&W and shot through with explicit sex, drug use, and musical interludes in bold color. The film was banned in India (which is proudly branded across the DVD cover) and played Slamdance in 2011, followed by a few subsequent festival screenings. Bengali with English subtitles, DVD only, with a booklet, behind the scenes featurette, and other supplements. Reviews here.
"The Hi-Lo Country" (Shout! Factory), a post-war western based on the novel by Max Evans, stars Woody Harrelson and Billy Crudup as friends and family ranchers trying to hold on during the changing landscape of Texas after Woprld War II, as corporate rancher threaten to swallow the county. Sam Peckinpah long wanted to make a film of novel and Stephen Frears (directing from a script by "The Wild Bunch" screenwriter Walon Green) offers a nicely-observed production, but without much energy or sense of purpose. The film just sort of meanders. Previously released by Polygram, it's been out of print for over decade until this release.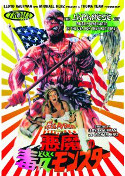 "The Toxic Avenger: The Japanese Cut" (Troma) features a longer (by four minutes) cut of Troma's signature cult classic, a grungy, gooey, gross-out comedy of a 98-pound-weakling transformed into a putrid, pure-hearted mutant ogre in a tutu who declares war on polluters, bullies, and any bad guy who dares cross his path. Which I guess makes it essential for Troma completists.
Also from Troma comes a pair of low-budget indie horrors. "Mr. Bricks: A Heavy Metal Murder Musical" (Troma), about a tattooed muscle man (Tim Dax) with bullet in his head on the trail of the cop who shot him, and "Hemo" (Troma), about a pair of vampire in Long Island who have to turn to human donors when the local blood banks stops their withdrawals. Both are DVD only with featurettes and other supplements.
"Mark of the Devil" (Cheezy Flicks), Adrian Hoven's sadistic exploitation horror of a corrupt, power mad inquisitor (Herbert Lom) terrorizing innocent peasants, has been released on disc by a lot of companies. This edition includes a reproduction of the "Vomit Bag" that was passed out in some of its original theatrical showings, but thqat doesn't make up for the poor video quality of the noisy, low-fidelity, non-anamorphic transfer.
For more releases, see Hot Tips and Top Picks: DVDs, Blu-rays and streaming video for week of December 18