A Tale of Two Rockers
"Nowhere Boy" and "Sex&Drugs&Rock&Roll" offer two very different approaches to the rock biopic
What do John Lennon and Ian Dury have in common? Apart from both being Brit-born rock icons who wrote and performed their own songs and died too young, not a whole lot. But this week, DVD releases—"Nowhere Boy" (Sony) and "sex&drugs&rock&roll" (Tribeca/New Video)—resurrect both of their lives in biographical dramas and these two films offer very different approaches to exploring the personal and creative lives of artists and rockers.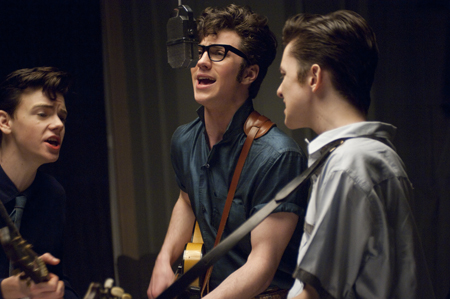 "Nowhere Boy" (Sony) is the early life of John Lennon, the man who would put together the Beatles as a teenage boy. As fellow critic Tom Keogh observed in a post-screening conversation, this may be the first film to imagine the meeting of John Lennon and Paul McCartney on the screen. What's so marvelous about the film (including that meeting) is that it isn't elevated into some mythological status: none of those clichéd lines where someone in the group or some prescient member of their early audience predicting their greatness or prophesying how they will "change the future of music." These are British boys brought together by a restless, emotionally knotted teenage Lennon, a teenager whose artistic impulses and rebellious tendencies serve him poorly in high school but drive him to create a skiffle band. All they have in common is a love of American rock and roll and the charge of playing in front of an audience. 
Aaron Johnson (of "Kick-Ass") is utterly convincing as the "Goon Show"-loving John, raised by his Aunt Mimi (Kristin Scott Thomas) and Uncle George, whose smoldering issues of abandonment by his mother, Julia (Anne-Marie Duff), are fanned into flames when George dies and Julia suddenly reappears ("the one with red hair," is how John refers to her at the funeral) and becomes a part of his increasingly emotionally turbulent life. "Nowhere Boy" shines a light on details from a part of Lennon's life that few beyond the most passionate fans know—John's reconnection with his mother and the fist shows of his proto-Beatles band, the Quarrymen—but it's rewarding because the story is not about the formative life of a star, but the emotional life of a boy who never knew his father and was abandoned by his mother (it's not that simple, of course, but to a teenage boy it sure feels that way). It's also the story of sisters—both mothers to the artistically inclined and reflexively rebellious schoolboy—and the choices of the past that continue to haunt and divide them.
When Paul McCartney saw the film, he reportedly had one criticism: Mimi wasn't as severe and strict and emotionally inexpressive as shown in the film. A fair point, and surely a dramatic choice to contrast the reserved, guarded Mimi and the borderline manic-depressive Julia. Mimi seems unable to show affection, but Scott Thomas is marvelous at showing pain and love and anxiety behind the vulnerable eyes of a hard face, while Duff offers a portrait of a woman who lets the charge of excitement and joy sweep her into giddy excess, a problem that her protective husband (David Morrissey) is all to aware of. It's not hostility he harbors for John, merely a wariness that her renewed affections will push her back into "illness" (as her condition is vaguely termed). There are minor historical liberties taken with the story, but the details and textures are lovingly crafted, from fifteen-year-old Paul's (Thomas Sangster) audition, playing Eddie Cochran's "Twenty Flight Rock" on a left-handed guitar, to the authentic skiffle sounds of the perfectly recreated debut show of the Quarrymen, playing on the back of a flatbed truck. Most importantly, the film offers a very human story. We may go because it's the story of John Lennon, but we care because it's an emotionally honest and human story.

The DVD and Blu-ray releases both include two featurettes (don't expect any insight from what are little more than colorful promotional pieces) and two deleted scenes.
By contrast, "sex&drugs&rock&roll" (Tribeca/New Video) hides an utterly conventional biopic behind a narrative chopped up into flashbacks, fantasies, animated interludes, music videos and carnivalesque stage shows. Most famous for performances behind the CGI-created Gollum in "Lord of the Rings" and King Kong in Peter Jackson's remake, Andy Serkis looks like a mad troll and embraces the look in his incarnation of Ian Dury, the music-hall showman of the British punk scene who hit it big with the song immortalized in the film's title and embraced fame with the same excess with which he embraced booze and drugs.

Serkis is great but the film is a familiar freak show of hardship and ego run amuck: a mad man of a singer-songwriter who, physically crippled by childhood polio that left an arm and a leg emaciated and nearly useless, blasts his way to stardom with cheeky lyrics and a stage act heavy on theater, while off stage fails as a husband (to artist Olivia Williams, tired of his self-involved existence), father (to impressionable son Bill Milner) and boyfriend (to adoring Naomie Harris). Like the Dury presented on screen, the film plays at provoking a response from the audience but doesn't give us any reason to care about Dury other than his reputation and excess. Bill Milner ("Son of Rambow") plays Ian's son Baxter, an angry, bullied little kid desperate for paternal attention who absorbs the excess of dad's lifestyle and spirals into insolence and arrogance, a potential tragedy that is dropped without any satisfactory resolution; Whitecross makes Baxter exhibit A in Ian's personal failures, and then fails to give him the same consideration the film offers its fucked-up rock and roll hero. It's got energy, but it doesn't give us much of a portrait of the man behind the public persona.
The DVD features filmmaker commentary and interview and deleted scenes.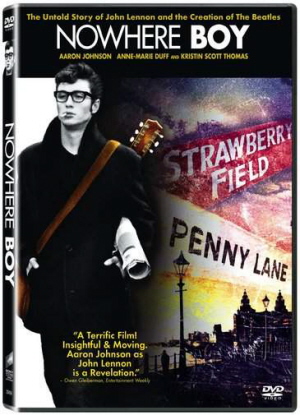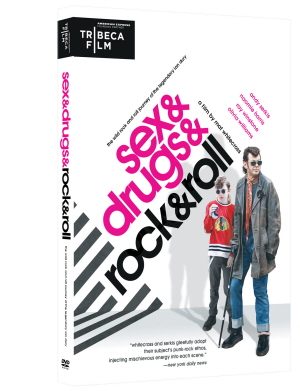 Are you sure you want to delete this comment?