Black and White and Blu-ray: 'The Big Heat'
Fritz Lang's film noir masterpiece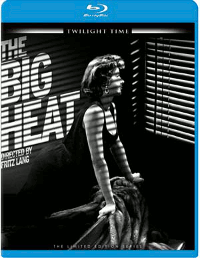 "The Big Heat" (Twilight Time) is one of the masterpieces of film noir, a film of subdued style, underplayed brutality, and a well of rage boiling under a surface of calm corruption.
Glenn Ford is the bland family man cop driven over the edge when the mob violently kills his wife in a hit meant for him (the scene is the first of the film's explosive eruptions of violence that tear through the placid poise of normalcy). Gloria Grahame co-stars as the willfully blind gangster's moll scarred to the soul in an even more scalding moment of brutality and Lee Marvin is memorable as a drawling gunman with a nasty vicious streak, but the usually stiff and stolid Ford is the revelation as his hatred and anger brings him to a boil. 
Director Fritz Lang, once the master of grand expressionist scenes, tones down his style as he works on a diminished budget, instead playing up the mundane visual quality of family homes, anonymous apartments and hotel rooms, and generic city streets. It all becomes part of the shadowy world of corruption and violence and psychopathic criminals.
I confess I never expected to see this on Blu-ray, and I couldn't be happier. Twilight Time has a superb high-definition master from Sony (which released the film on DVD) and the image is sharp and rich, with deep blacks and textured shadows, a reminder of just how beautiful black-and-white can be on a well-mastered, well-produced Blu-ray. As with virtually all of Twilight Time's Blu-ray releases, the sole supplement is an alternate audio track with the isolated score, attributed to Columbia's musical director Mischa Bakaleinikof but including musical cues from the studio's music library. Available exclusively from Screen Archives, limited to a run of 3,000 discs.
For more releases, see Hot Tips and Top Picks: DVDs, Blu-rays and streaming video for May 8