Coming Up: Philip Morris, Dennis the Menace, King Arthur and Tracy and Hepburn
All Nine Films with Tracy and Hepburn in a box set and more
By 
SeanAx
 Jan 21, 2011 11:11AM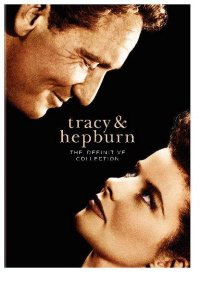 Spencer Tracy and Katharine Hepburn were one of the great screen couples of Hollywood. Warner releases all nine of the films they made together in a box set, "
Tracy and Hepburn: The Definitive Collection
," for release on April 12, 2011.
"Keeper of the Flame" and "The Sea of Grass" make their respective DVD debuts in this set, which is completed by the previously-available​ titles "Woman of the Year," "Without Love," "State of the Union," "Adam's Rib," "Pat and Mike," "Desk Set" and "Guess Who's Coming to Dinner," plus a bonus tenth disc featuring the Emmy-winning documentary "The Spencer Tracy Legacy: A Tribute by Katharine Hepburn." 
Jay North is the original pint-sized terror in the original sitcom version of Hank Ketcham's comic strip, which debuts on DVD from Shout! Factory with "Dennis the Menace: Season One" (DVD, March 29). 32 episodes, plus interviews and a bonus episode of "The Donna Reed Show" guest-starring North as Dennis.
Don Draper and company are back in the acclaimed "Mad Men: Season Four" (Lionsgate), which follows their struggles at a fledgling independent ad agency (DVD and Blu-ray, March 29).
Jim Carey is a con man in the based-on-a-true-stor​y dark comedy "I Love You Phillip Morris" (Lionsgate) with Ewan McGregor (DVD and Blu-ray, April 5).
Also recently announced for release: the alien invasion thriller "Skyline" (Universal) with a no-star cast (DVD and Blu-ray, March 18), Spike Lee's made-for-HBO documentary "If God Is Willing and Da Creek Don't Rise" (HBO) (April 19) and the Blu-ray debuts of John Boorman's magnificent King Arthur odyssey "Excalibur" (Warner) (March 8) and Buster Keaton's silent comedy classic "Our Hospitality" (Kino) (March 22).