Stranger on the Third Floor: The First Film Noir
MSN Videodrone celebrates the "For the Love of Film (Noir) Film Preservation Blogathon" with a review of a B-movie landmark
By 
SeanAx
 Feb 14, 2011 11:03AM
"Stranger on the Third Floor" (Warner Archive)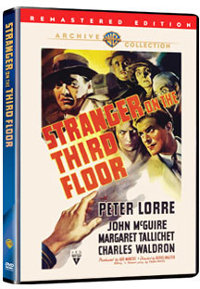 Film noir has been called a style, an attitude, a movement, an era of Hollywood filmmaking, and it's all of these. But what I love best about film noir—apart from the thrill of a good hard-edged tale of hard-boiled characters in a hard-luck world—is that it's the only genre defined by its aesthetics. A film needs to hit a certain expressive quality to be considered a true noir. It's not just about a nocturnal world; noir is about shadows that swallow people up as they slip deeper into moral corruption and slashes of light that reach through the dark like claws. Poles of good and bad get complicated. Characters fumble through shades of gray and slip into pulp tragedy, driven by a feverish desperation that is doomed to get somebody killed. (For an excellent and quick introduction to film noir, see Richard T. Jameson's brief essay on Parallax View here.)

There are plenty of antecedents and inspirations on the road to noir—German Expressionist cinema, American gangster films, hardboiled fiction, French poetic realism, documentary and Italian neo-realism—but historians and critics all tend to agree that the first true American film noir was not the legendary 1941 "Maltese Falcon" but a ambitious B-movie crime thriller from the year before which co-starred a couple of actors who got a lot more exposure from "Falcon," Peter Lorre and Elisha Cook, Jr. "Stranger on the Third Floor" is a paranoid 1940 murder thriller that, for all of its budgetary constraints, took viewers on a spiral of justified paranoia.
John McGuire, a light stiff of a low-watt romantic leading man takes the lead as reporter Mike Ward, just an ambitious American guy who gets his big break when he becomes the star witness in a murder trail, but top billing goes to Lorre, whose American claim to fame at that time was playing Japanese detective Mr. Moto in a series of B movies. He's the Stranger of the title and in just a couple of brief scenes he dominates the picture. A thin, sunken man haunting the streets of Mike's low-rent neighborhood, he's like a little boy lost by way of a wandering war refugee, but with a homicidal side, as Mike discovers after his testimony sends a poor schlub (Elisha Cook Jr.) to the chair for a murder that he probably didn't commit.
Though still little known beyond noir aficionados, "Stranger on the Third Floor" does have some notoriety for its signature sequence, a dream scene pours all the guilt and paranoia built up in Mike's tormented mind into a stylized nightmare of stark settings created by massive shadows thrown across a blank canvas of a screen dressed with exaggerated props. It's still a knock-out of a sequence, an American version of German Expressionist style that was unlike anything Hollywood cinema had done to that point, but what makes the film so good is how those long shadows of doubt seep out into the rest of the film to create an ominous atmosphere in the "real world" of the characters.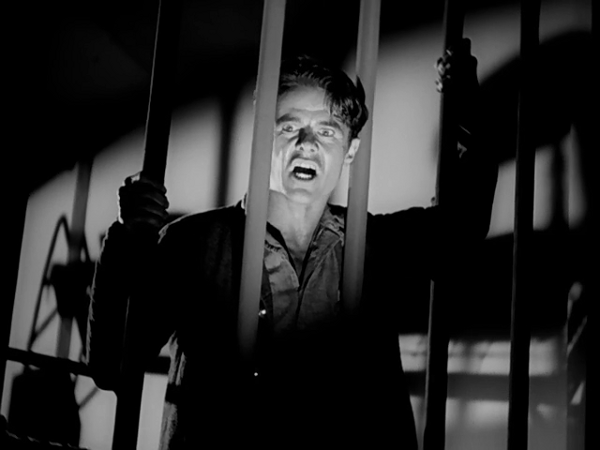 Just a oppressive is the social atmosphere of the opportunism and moral hypocrisy surrounding Mike and his fiancée (the lovely Margaret Tallichet, who soon after became Mrs. William Wyler), and the anger and hatred that builds up in Mike as his sanctimonious busybody of a rooming house neighbor constantly referees his private life. That's where the ambivalence of film noir really informs the film, the recognition of the darkest impulses of our heroes and the terrors of seeing them unleashed.
"Stranger on the Third Floor" is a marvelous alchemy of B-movie ambition, stylistic daring and nightmare cinema for urban America, a film that rises far above the limitations of its pieces (a soggy star, an inconsistent script, a happy ending out of tune with the rest of the film) and creates something much more compelling than the sum of its parts would suggest.
The film is available on the Warner Archive Collection of DVD-R discs in a Remastered Edition and it looks superb: an excellent presentation of a minor landmark of a film. Click here for the Warner Archive website.

********************​********************​********************​********************​*******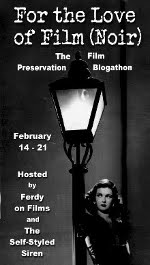 Please give in to the darkness by donating to the Film Noir Foundation for the restoration of Cy Enfield's 1950 Try and Get Me (aka The Sound of Fury), one of the many orphans of independently-produc​​​ed film of the classic studio era.
"For the Love of Film (Noir) Film Preservation Blogathon" is hosted by Ferdy on Film and The Self-Styled Siren, who are compiling the contributions from all participating websites and blogs. For information on the Blogathon, see Ferdy on Film here, and for information in participating, see The Self-Styled Siren here. The official Facebook page is here.
MSN's The Hitlist and Videodrone blogs will be contributing so keep checking back for more love for the dark side of American film.
And again, don't forget to donate.
Are you sure you want to delete this comment?