Coming Up: Classic and Contemporary Blu-ray Announcements
including "A.I.," "The Man Who Would Be King" and the "Pirates" trilogy
By 
SeanAx
 Feb 20, 2011 11:31PM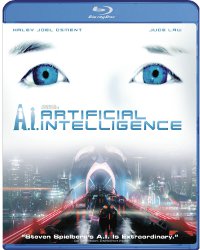 It feels a bit like closure, given the recent announcement of the Stanley Kubrick Collection on Blu-ray earlier this week, to announce the high-def debut of "
A.I.: Artificial Intelligence
" (Paramount) on April 5.
Directed and written by Steven Spielberg, based on Kubrick's treatment and notes, the dark, visionary fairy tale is a cyber-punk "Pinnocchio" starring Haley Joel Osmet as the robot boy who wants to be human.
On March 1, in advance of the fourth chapter in the Johnny Depp swashbuckler, Disney releases "
Pirates of the Caribbean Trilogy
" (Disney), a seven-disc deluxe edition. And surely not the last incarnation for what looks to be a continuing series.
Upcoming Warner Blu-ray Book releases include John Huston's seventies classic "
The Man Who Would Be King
" and Clint Eastwood's "
The Outlaw Josie Wales
," both set for June 7.
And a week later, on June 14, comes "
Cincinnati Kid
" with Steve McQueen and Kathryn Bigelow's surf/crime film "
Point Break
" with Keanu Reeves and Patrick Swayze.