New Release: Tim Burton's 'Dark Shadows'
Johnny Depp turns a family curse into a family celebration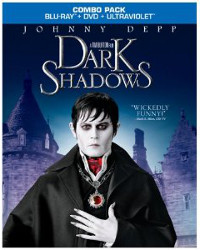 "Dark Shadows" (Warner) is by definition a big screen remake / revival of the late 1960s gothic soap opera, an actual daytime serial that took a turn into a world of vampires, witches, werewolves, curses, and other romantic old-school horror movie staples.
See an exclusive clip from the Blu-ray release below
It is by nature, however, a trip to Tim Burton-land, where families learn to embrace the eccentric and the weird as part of their definition and gain strength from their differences. Though ostensibly built on characters and plots from the old TV series, it has very little to do with the show and everything to do with Burton's affection for the ghoulish and the goofy, especially when they come wrapped together.
"Dark Shadows" was largely dismissed is a frivolous exercise in style and Burton excess when it was released but at heart it's another Burton family of eccentrics that finds itself when it embraces its difference, thanks to the arrival of Barnabas Collins (Johnny Depp, once again committed to the Burton vision). Cursed to be a vampire but inspired to raise up the Collins family name, and in the process the fractured Collins family itself, it flirts with tragedy but is more committed to the comedy of life… or resurrection, as it were.
There's a sense of play in every Burton film, but when he puts it in the service of real family values – parental commitment, paternal protectiveness, a nurturing of the individualism that comes with rebellion – he can deliver something quite special. Think "Edward Scissorhands" or "Beetlejuice" or "Ed Wood."
There's a whole story of revenge and a centuries-old grudge held by Angelique (Eva Green), a matriarch resigned to haunting the Collins mansion (Michelle Pfeiffer, fierce but all-to-briefly onscreen), a sullen young teen (Chloë Grace Moretz) whose worst behavior never even phases Barnabas, the reincarnation of Barnabas' dead love (Bella Heathcote), and all sorts of plots to keep the story going, but then story has rarely been Burton's strong suit. He just likes to play. And after Burton has gotten through all the obvious jokes (the 18th century man confronting 20th century culture and technology, and the 21st century filmmakers goofing on seventies culture), he starts having fun with the characters and the cinema toybox at his disposal.
"My own high rating for this movie stems at least in part from the fact that these represent my kind of indulgences, if you will (and I happen to believe, ahem, that their appeal is immortal rather than boomer-specific, although some might consider this mistaken)," confesses MSN film critic Glenn Kenny. "And for all that, there's a sense in which the movie takes its story's threaded themes of abandonment and family loyalty almost seriously, which gives it an unexpected if not fully realized resonance."
http://movies.msn.co​m/movies/movie-criti​c-reviews/dark-shado​ws/
On Blu-ray and DVD, with the featurette "The Collinses: Every Family Has Its Demons" (see a clip from the featurette below) and an UltraViolet digital copy for download and instant streaming.
Exclusive to the Blu-ray is the Maximum Movie Mode option, an interactive audio-video track with nine picture-in-picture featurettes (they pop up in a corner of the screen but can also be accessed and viewed separately) and deleted scenes, plus a bonus DVD copy.