MOD Movies: The Dark Side of Jean Negulesco
The studio director best known for glossy musicals began in the world of film noir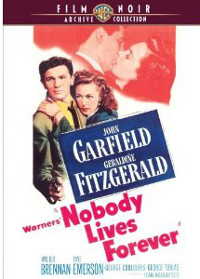 "The Conspirators" (Warner Archive)
"Three Strangers" (Warner Archive)
"Nobody Lives Forever" (Warner Archive)
Jean Negulesco is not the first name that comes up when discussing the great directors of film noir. In fact, it rarely comes up at all. The studio photographer turned director is still best remembered for glossy studio films like "How To Marry a Millionaire" (1953), "Three Coins in the Fountain" (1954), and "Daddy Long Legs" (1955). Three recent releases from the Warner Archive may change that. "The Conspirators" (1944), "Three Strangers" (1946), and "Nobody Lives Forever" (1946), three of the four features that elevated Jean Negulesco from studio contract man cranking out theatrical shorts to A-list Warner director, are the first films from the Warner Archive to carry the brand "Film Noir." And they earn the brand.
"The Conspirators" is less film noir than cloak-and-dagger espionage thriller set in exotic locales of World War II resistance. In many ways it is an unimaginative "Casablanca" knock-off relocated to Portugal, with half the cast carried along with it. Paul Henried is once again the resistance hero on the run from the Nazis, this one from the Netherlands (he's nicknamed "The Flying Dutchman") and hiding out in the technically neutral Lisbon while awaiting passage to London, and Sidney Greenstreet and Peter Lorre as members of the Portuguese resistance. Hedy Lamarr takes the Bergman role here as an elegant spy and Joseph Calleia is wonderfully ambiguous in the Claude Rains roles as the Portuguese cop who works with the Nazis out of necessity but not conviction. There's even a variation on the romantic triangle of "Casablanca" at the center of the romantic tension between Henreid and Lamarr.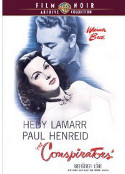 Unlike its inspiration, this is very much standard studio fare, with overwrought dialogue and romantic overkill (Hedy Lamarr isn't much for showing emotion so she has to verbalize it all), and the resistance cell is more social club than fighting force. Negulesco doesn't necessarily overcome the material but he, along with a cast of character actors having fun with their roles, delivers an entertaining Hollywood espionage melodrama. Negulesco shows a flair for this kind of material, opening the film with great energy and swiftly carrying us from the action of the Dutch resistance to the shadowy underworld of Lisbon. While I wouldn't exactly describe it as classic film noir, it could certainly be included in the conversation.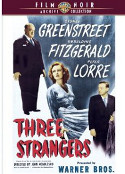 Negulesco, writing in his autobiography "Things I Did …and Things I Think I Did," gives credit to John Huston for steering him to the source material for his debut feature, "The Mask of Dimitrios" (1944). "Three Strangers" was a second gift from Huston, this one a screenplay that Huston originally wrote for himself as a kind of follow-up to "The Maltese Falcon" but handed off to Negulesco while he pursued another project. "Three Strangers" turns on another kind of exotic treasure, this one the legend of a Chinese goddess of fortune and destiny who will make a wish come true, and a partnership that dissolves in a spiral of greed, corruption, and desperation. Sidney Greenstreet and Peter Lorre are the two strangers that Geraldine Fitzgerald (never more beautiful, or more dangerously obsessive) pulls off the street at random to follow through on her midnight ritual. The prize: a sweepstake ticket on a horse derby that all three buy a share in and vow to let ride through the end, splitting any fortune it delivers equally.
The premise isn't as complicated as it sounds and Negulesco lets the potential of the characters carry the opening scenes in a fascinating play of chance, fate, and superstition in the face of human reason. From there, their stories diverge, each participant caught up in their own dynamic of suspicion and self-destruction that spirals right back to the pact . Negulesco gives the film a shadowy grace and directs all three actors to marvelously vivid performances. It's a superb film that has rarely gotten its due, and an elegant film noir guided by a uniquely Hustonian on fate and karma that is both softened and accentuated by Negulesco's more romantic sensibility of crime and punishment.
"Nobody Lives Forever," based on a novel by W.R. Burnett, stars John Garfield as Nick Blake, a street smart New York hustler back home after his wartime service and a stint (never spoken of again) in U.S. Army Hospital. Just the sight of him leaving the hospital is enough to remind us of the toll taken by the war and sure enough, Nick just wants to rest up when he gets out, but he's maneuvered into taking over a con involving a rich young widow (Geraldine Fitzgerald again, this time the society naïf). Wouldn't you know that he falls for his mark. Much to the ire of Doc Ganson (George Coulouris), the rival who set up the scam and wants his payday.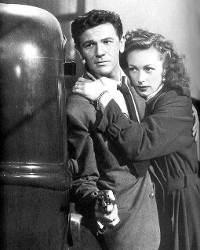 "Nobody Lives Forever" is without a doubt one of the great noir titles, not quite nihilistic but still an expression of nothing to lose. The film doesn't quite deliver on that promise of existential doom but it does feature Garfield in fine form as the street kid made good on pure self-assurance and native intelligence, and a cast of classic noir types, notably Walter Brennan as Nick's mentor Pop Gruber, an old con on hard times who pushes Nick to take this job and soon regrets the decision, and George Tobias as Nick's amiable partner, ready to follow him loyally anywhere. But Coulouris makes the film as Doc, the bitter rival who can't decide if it's more important to finish the con or put Nick in his place. Superb as the sweaty, unkempt con-man, a once dapper player now scraping by in threadbare clothes and shabby rooms, and he's the constant reminder of the opportunism that drives our criminal heroes, no matter how suave or smooth they may appear.
"The Mask of Dimitrios," Negulesco's first noir and his first film with Sydney Greenstreet and Peter Lorre, is still missing from home video. This was not a slight, however. According to a spokesman on the Warner Archive Facebook page (where they have a well-deserved reputation for answering questions such as these posted by fans), the studio found the vault materials were not in good enough shape for a release and have begun a search for better prints and materials for release at a later date. I look forward to that as a follow-up release.
All three films look good, with a sharp B&W image and good contrast. "The Conspirators," however, shows more wear and speckles throughout and the soundtrack (which has minor crackles) drops its level a little over an hour into the film. You'll to turn the volume up quite a bit just to hear the voices.
A longer version of this review is available on Videodrone.
Available exclusively from Warner Archive:
MOD stands for "Manufacture on Demand" and represents a recent development in the DVD market, where slipping sales have slowed the release of classic, special interest and catalogue releases. These are DVD-R releases, no-frills discs from studio masters, ordered online and "burned" individually with every order. You can read a general introduction to the format and the model on my profile of the Warner Archive Collection on Parallax View here and on the MGM Limited Edition Collection on Videodrone here.
For more releases, see Hot Tips and Top Picks: DVDs, Blu-rays and streaming video for the week of July 17