New Release of the Week: "Inside Job"
The Oscar-winning documentary spreads its message on home video this week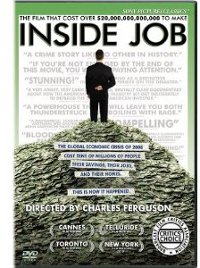 To jump on a cliché, if there is one film you should see in this week's batch of new releases, it is "Inside Job" (Sony), Charles Ferguson's damning (and as of last week, Academy Award winning) exposé of the story behind the financial crisis and the failures of both government and industry to put measure into place to prevent a similar abuse of the system from occurring again.
Documentary filmmaking is where some of the best investigative journalism is being done today and this is a superb example of the genre. Ferguson puts hard questions to Wall Street professionals, executives at the failed financial giants, government regulators, economists, academics and elected officials and presses them when the answers don't pass the bull***t test. While he doesn't always get a better answer, the squirming and discomfort and, at one point, a request to turn the camera off tell us that there's another story they aren't telling us. That's the story Ferguson digs up here. He doesn't simply tell us what's wrong with the system, he shows us the conflicts of interest between government, industry and the so-called independent economic advisers who are hired by the very corporations their recommendations affect.
Some will chalk this up as another liberal lambasting but it's no partisan portrait. Bill Clinton gets as much criticism as George W. Bush and Barack Obama's efforts at reform are criticized as ineffectual window dressing. And if you're worried that this is one of those documentaries that is good for you, rest assured that it is also a well-made film that cuts through the jargon to dissect the whole Wall Street crash dramatically and effectively and lay out the complicated issue in terms we can understand. In the words of Wall Street Journal critic Joe Morgenstern, it "has the added value, as well as the cold comfort, of being furiously interesting and hugely infuriating." (Click here to read more reviews of this well-reviewed film)

The DVD and Blu-ray releases feature over 30 minutes of deleted scenes, the twelve-minute featurette "Inside Job: Behind the Heist" (originally made for cable but moderately informative as an overview) and commentary by Ferguson and producer Audrey Marrs. Exclusive to the Blu-ray is an hour of additional deleted scenes.