Oscar Hangover: Hosting the Week's New Releases
James Franco and Anne Hathaway both take it off for these films. They just don't take off the same things.
By 
SeanAx
 Feb 28, 2011 10:05PM
Regardless of your take on their success as hosts of this year's Oscar telecast (MSN's Kim Morgan was less than impressed but Glenn Kenny cut them some slack), James Franco and Anne Hathaway are the home video stars of the week. Franco's Oscar-nominated performance anchors "127 Hours" (Fox) and Hathaway bares all as the doomed lover in "Love & Other Drugs" (Fox).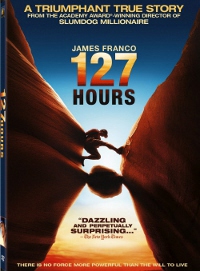 "127 Hours" is a great example of the dramatic film based on the well-known true tale where the success of the execution is not measured in depicting what happened -- for we all know that -- but, rather, in how," writes MSN critic James Rocchi of Danny Boyle's film of what was considered an unfilmable true story. Franco plays Aron Ralston, an outdoorsman who goes solo for his weekend thrills and ends up trapped and alone in a crevice, his arm pinned by a boulder and his existence suddenly reduced to a sliver of a world. There's not a soul who knows he's there.
The climax is no secret – he has to cut off his own arm and walk out on his own power – because Ralston's ordeal became a major news story and he barnstormed the country to promote his best-selling memoir. What Boyle and Franco offer isn't so much a film as a cinema stunt, a technical exercise in making inherently uncinematic material interesting and compelling, and Boyle and co-screenwriter Simon Beaufoy find interesting ways to open up an inherently internal experience. It's just the subtext of emotional isolation and disconnection that is pat, contrived and unconvincing.
MSN's Rocchi is more appreciative. ""127 Hours" may be occasionally overdirected, but it's never under-felt. While some of Boyle's decisions may be questioned in the cool contemplation after the film's hot immediacy, there's no doubting he makes the Ralston's story lively -- and that, more importantly, Franco's work goes a long way toward making Ralston's story live."
The DVD and Blu-ray feature engaged commentary by director Danny Boyle, producer Christian Colson and co-screenwriter Simon Beaufoy and deleted scenes. Exclusive to the Blu-ray release is the 35-minute "127 Hours: An Extraordinary View", with lots of revealing behind-the-scenes footage and thoughtful interviews with Boyle and Franco, and "Search & Rescue," a 15-minute documentary on Ralston's escape featuring interviews with the Ralston and the search and rescue professionals who flew him out of the desert, plus a digital copy for portable media players.
"Used to be, you got naked, you got an Oscar. Not anymore." – Anne Hathaway, 2011 Oscars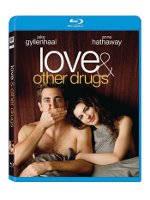 And yes, she did in "Love and Other Drugs," playing a free spirit who has been diagnosed with Parkinson's and falls into a physical relationship with pharmaceutical salesman Jake Gyllenhaal, a flirtatious playboy who has hit the motherlode with his company's newest product: Viagra. "The leads, Anne Hathaway and Jake Gyllenhaal, are charming and light as they meet and fall for each other, and they also dig deep -- or, rather, deeper than the average rom-com -- when romantic uncertainty and Hathaway's Parkinson's disease drag the long shadows of sadness and mortality into the sunshine of their love," writes MSN critic James Rocchi. "The only thing to dislike about "Love and Other Drugs" is how clearly, and desperately, it wants to be liked.
The supplements are far less substantial for this release. "An Actor's Discussion" just touches on the characters and performances while "Beautifully Complex: Anne Hathaway describes Maggie" and "Reformed Womanizer: Jake Gyllenhaal is Jamie" are long titles for short, insubstantial promotional featurettes. Also features deleted scenes and the Blu-ray features a digital copy for portable media players.