The New Release Rack: Another Slice of the Pie in 'American Reunion'
Plus 'Being Flynn' with Robert De Niro, 'The Flowers of War' with Christian Bale, and more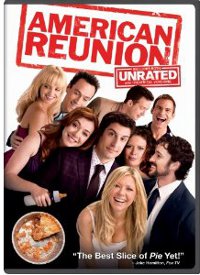 "Margaret" (Fox), the much delayed and debated second feature from director / screenwriter / playwright Kenneth Lonergan, arrives on Blu-ray with the theatrical cut plus a bonus "Extended Cut," and on DVD and On Demand. Videodrone's review is here.
"American Reunion" (Universal) is number four in the "American Pie" franchise (if you don't count those direct-to-disc spin-offs, and there is no reason you should count them, let alone see them) and it brings back the entire cast of featured players from the first couple of films: Jim and Michelle (Jason Biggs and Alyson Hannigan), Kevin and Vicky (Thomas Ian Nicholas and Tara Reid), Oz and Heather (Chris Klein and Mena Suvari), Finch and Stifler (Eddie Kaye Thomas and Seann William Scott), and of course Jim's dad (Eugene Levy) and Stifler's mom (Jennifer Coolidge). And that's pretty much the selling point: the old high school gang comparing notes and revisiting adolescent hijinks 13 years after graduating.
This one is written and directed by Jon Hurwitz and Hayden Schlossberg, the duo behind the "Harold and Kumar" movies, which of course means that John Cho (who was in the first couple of movies) as back as well. MSN film critic Glenn Kenny likes the new film, which he finds kind of sweet, especially in light of the rampant misogyny of the "Hangover" movies. "This relative sweetness isn't the only thing "American Reunion" has going for it. It's got some pretty good jokes, too. OK, maybe they aren't that good, but they're performed with excellent timing.
"Not that this is what you'd call a comedy home run. It's almost two hours long, about 20 minutes longer than it ought to be, and its reverently conventional three-act structure is pretty ... uninspired. But, still, the amiability of the proceedings almost convinces you that the project's heart is in the right place…."
You have your choice of the R-rated theatrical version or an unrated cut of the film (running only a minute longer) on all formats: Blu-ray, DVD, and On Demand. Both disc releases feature commentary by directors / writers Jon Hurwitz and Hayden Schlossberg, the ten-minute featurette "The 'Reunion' Reunion: Re-Launching the Series," the short featurettes "Jim's Dad" and "Ouch! My Balls!" (don't ask), plus seven deleted scenes and the obligatory gag reel.
Exclusive to the Blu-ray is an addition "Out of Control" commentary track (with video pop-ups of actors in character adding comments), more brief featurettes (including "American Gonad-iators: The Fight Scene"), the interactive "American Reunion Yearbook," and extended and alternate scenes, plus an Ultraviolet digital copy, for download and instant streaming, and the usual BD-Live interactive functions.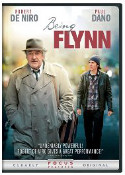 "Being Flynn" (Universal), an adaptation of the Nick Flynn memoir "Another Bull***t Night in Suck City" from director / screenwriter Paul Weitz, stars Paul Dano as Flynn and Robert De Niro estranged father, now homeless and living in a shelter. "I was rather disappointed at how thoroughly Hollywoodized the material is, almost from the get-go," complains MSN film critic Glenn Kenny, who finds "that the moviemaking style, full of graceful camera pull-ups signaling emotional uplift/epiphany and that sort of thing, is often at odds with what's happening on-screen." Olivia Thirlby, Lili Taylor, and Julianne Moore co-star.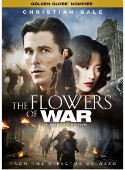 Blu-ray and DVD, with the featurette "The Heart of Being Flynn." Also available On Demand.
"The Flowers of War" (Lionsgate), Zhang Yimou's Chinese epic about the fall of Nanjing, stars Christian Bale as an American on the run who poses as a priest and hides out in a walled cathedral, where his self-preservation instincts are used to save the lives of refugee schoolkids and courtesans also seeking shelter. San Francisco Chronicle film critic Walter Addiego finds the film: "Affecting at times, but finally feels overblown and heavy-handed." In English and Mandarin with English subtitles. The Blu-ray and DVD editions both include the five-part "Behind the Scenes of The Flowers War." Also available On Demand and at Redbox.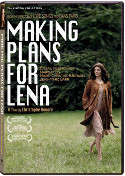 Foreign Affairs:
"Making Plans for Lena" (Zeitgeist) is a family saga starring Chiara Mastroinanni as a single mother of two struggling to stay afloat after leaving her husband, losing her job, and landing back home with her family. "Ms. Mastroianni deftly goes through the psychological contortions of a woman under siege by parents, siblings, an ex-husband, a former boyfriend and a prickly new employer," writes New York Times film critic Stephen Holden, and the film "has acutely detailed performances of its complicated characters." Christophe Honoré directs and Marina Foïs, Marie-Christine Barrault, Jean-Marc Barr, and Louis Garrel co-star. In French with English subtitles. DVD only, no supplements.
"Quill: The Life of a Guide Dog" (Music Box) from Japan is indeed the story of a dog raised from a puppy to be a guide dog, and his relationship with his master. "What sets this film above so many movies about animals is that it's about a dog who is realistic in every aspect," writes Chicago Sun-Times film critic Roger Ebert. In Japanese with English subtitles. DVD only, no supplements.
"Seven Minutes in Heaven" (Film Movement), a debut feature from Israel, is a mystery of sorts: the story of a woman trying to piece together the memories she lost in a terrorist bombing. In Hebrew with English subtitles. DVD only, with bonus short film "Grandmothers" from Brazil. Reviews here.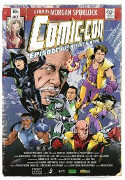 True Stories:
Just in time for Comic-Con 2012 (which MSN is covering here) comes Morgan Spurlock's documentary "Comic-Con: Episode IV: A Fan's Hope" (Wreckin' Hill). Los Angeles Times film critic Kenneth Turan describes the film as "A look at the annual San Diego convention that is sweetly empathetic where previous Spurlock works have been brash and confrontational. Plus, it's a lot of fun." The DVD also features extended interviews with Stan Lee, Joss Whedon, Kevin Smith and others, a featurette, and deleted scenes among the supplements.
"Fightville" (MPI) profiles the rise of Mixed Martial Arts and follows the efforts of a handful of young hopefuls trying to break into the big time. " Spiked with energy and attitude, the nonfiction movie Fightville takes a fast look at a few men who, for pleasure and sometimes profit, like to smack and take down other men while practicing mixed martial arts," writes New York Times film critic Manohla Dargis. Blu-ray and DVD, with a featurette and deleted scenes.
"Kassim: The Dream" (Zeitgeist) follows the amazing journey of Ugandan-born boxer Kassim "The Dream" Ouma from child soldier to Junior Middleweight Champion. Reviews here.
Plus:
"Freak Dance" (Image), a film from the comedy group Upright Citizens Brigade, spoofs dance movies with a cast that includes Amy Poehler, Matt Besser, Matt Walsh, Ian Roberts, Horatio Sanz, and Time Meadows. DVD only, with commentary, a featurette, and deleted scenes. Reviews here.
"I Kissed a Vampire" (Monterey) is a teenage vampire musical with goth rockers, foreign exchange students, and star-crossed lovers. The film is based on a web series and the DVD includes the original series, along with deleted scenes and bloopers. Reviews here.
"Mysteria" (Green Apple), a noir-esque thriller about a washed-up screenwriter in the middle of a murder, co-stars Danny Glover, Martin Landau, Billy Zane, and Michael Rooker. DVD only. Reviews here.
"Black Limousine" (Anchor Bay), originally released as "The Land of Astronauts," is a thriller from starring David Arquette, Bijou Phillips, and Vivica A. Fox. DVD only, no supplements. Reviews here.
For more releases, see Hot Tips and Top Picks: DVDs, Blu-rays and streaming video for the week of July 10