New Release Round-Up
"Tamara Drewe," "Middle Men," "Life As We Know It," "You Again," "Hideaway" and more hit the New Release racks
A big week, at least in terms of numbers, so let's get started, shall we?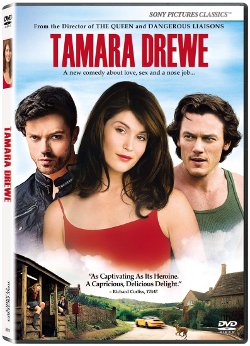 "Tamara Drewe" (Sony), directed by Stephen Frears, has a strange and wonderful pedigree: an adaptation of the graphic novel (by Posy Simmonds) inspired by Thomas Hardy's "Far From the Madding Crowd" and whipped up with a light sex comedy froth by screenwriter Moira Buffini and the cast (headed by the Gemma Arterton as the gorgeous heroine with identity issues and Roger Allam as the philandering author who wants to bed her). Frears brings a light touch and a knowing compassion to this pastoral romantic farce, where true love wins out and false love is (quite literally) trampled out of sight. See my exclusive interview with director Stephen Frears here.
Gemma Arterton and Luke Evans, the terribly gorgeous young things destined for true love in the film, contribute a lively and entertaining (if not particularly insightful) commentary track. The quote of the week goes to Ms. Arterton and her observation: "It's so hard acting with a chicken under your arm." The disc (DVD and Blu-ray both) also includes a couple of featurettes: the general, and fairly generic, "The Making of Tamara Drewe" and the more interesting "Reconstructing Tamara Drewe," which examines the adaptation of the graphic novel with comparisons between the film and the original pages. "It's not a storyboard for the film," explains Frears, "but you can see we captured the essence of it."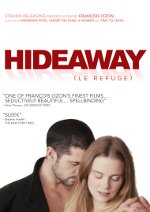 "Hideaway" (Strand) – The films of François Ozon constantly offer alternative family units and this elusive French drama (originally titled "Le Refuge") offers yet another. Isabelle Carré is the drug addict who discovers she is pregnant after surviving an OD that kills her boyfriend and heads out to her hideaway to have her child. Louis-Ronan Choisy is the gay brother of her dead boyfriend who shows up at the beach house escape and, for a time, enters her life with an intimacy that no one else is able. She's both childlike and terribly experienced, removed and yearning, unwilling to put her trust in anyone else but hoping she finds someone to change her mind as she allows the pregnancy to envelope her like a tide. This young gay man is not necessarily that person, but for a brief moment they find a connection and a reason to care for another. In French with English subtitles.
"The Romantics" (Paramount), starring Katie Holmes, Josh Duhamel and Anna Paquin in a romantic triangle centering the indie ensemble drama, is reviewed here. "There are shenanigans and some emotional fireworks (quite tasteful) over the night between the rehearsal dinner and the wedding, but this isn't so much a romantic comedy as a lightweight indie ensemble drama that never quite gels"
"Middle Men" (Paramount) digs into the shallow end of the American Dream to chronicle the rise of Internet porn as an economic goldmine, with Luke Wilson as the modest businessman who sees the profit potential in the new digital pipeline of smut. "This sprawling, apparently real world-inspired, often outrageous tale of the dirty business of Internet porn and how it got that way – that is, so huge and so easy – is pretty clearly Gallo's homage to Scorsese's "Casino"," writes MSN critic Glenn Kenny. "It's no surprise that "Middle Men" isn't quite as smart, or nearly as difficult, as Scorsese's multileveled, often almost oppressively intense picture… But the picture is never not engaging, and it certainly has its moments." Giovanni Ribisi, Gabriel Macht, Kelsey Grammer and James Caan co-star. Not much in the way of supplements, but then the entire Internet is provides all the pertinent evidence you could want, right?
Speaking of the shallow end, a pair of femme-centric comedies aim for the lowest common denominator and deliver exactly that. "Life As We Know It" (Warner) stars Katherine Heigl and Josh Duhamel are the pretty young singles tossed together as foster parents of an instant orphan and discover that mutual dislike is the first step to true love. Says MSN critic Glenn Kenny: "I didn't laugh once at any of this trite, sentimental gunk, and I pretty much shuddered when writers Ian Deitchman and Kristin Rusk Robinson and director Greg Berlanti trotted out a pot brownies jokes." The DVD features deleted scenes (just in case you want more of this) and the Blu-ray adds three featurettes.
Kat Murphy is even harder on "You Again" (Disney), a slapstick wedding farce with Kristen Bell and Odette Yustman as high school rivals tossed together at a family wedding. "So totally, inanely, numbingly awful is the DOA comedy "You Again" that you can actually see A-list performers like Sigourney Weaver, Jamie Lee Curtis and Kristin Chenoweth flailing through every scene, working like mad to inject life into characters so frozen in stupid caricatures they barely register as human. Believe me, you feel their pain." Features deleted scenes and comic featurettes, while the Blu-ray adds more deleted scenes and the "Blooper Dance Party."
There is a lot of talent on both side of the camera of "It's Kind of a Funny Story" (Universal), starring Keir Gilchrist, Zach Galifianakis, Emma Roberts and Lauren Graham and adapted from Ned Vizzini's novel by writer/director team Ryan Fleck and Anna Boden. Which is why, James Rocchi writes, "it's dismaying, as you sit in the theater, to have "It's Kind of a Funny Story" lay out across the screen limp and phony and cute, smothered in fantasy sequences and plucky animation, depicting serious mental illness as a series of charming quirks or stick-on makeup scars, peddling the same tired obligatory but-wait-maybe-it's-​we-who-are-the-crazy​-ones clichés." Features deleted scenes, outtakes and a pair of featurettes.
Tyler Perry adapts and directs "For Colored Girls" (Lionsgate), based on Ntozake Shange's 1975 stage play "For Colored Girls Who Have Considered Suicide When the Rainbow Is Enuf," with an impressive cast, but MSN critic James Rocchi remains unimpressed. "Perry's film depicts calamity after calamity, tragedy after tragedy -- rape, molestation, suicide, homicide, infanticide, infidelity, sickness, mutilation and other agonies -- in a never-ending stream of moments intended to hammer at the hardest heart until it feels something. The end result is like watching an entire week of Sundance dramas in two hours, or "Precious" on fast-forward, so overloaded that it leaves the realm of the tragic and verges on the comedic."
Also new this week:
For more on DVD this week, visit weekly DVD listings in MSN.