Cult Watch: Coffin Joe returns from the grave
"Embodiment of Evil" is the first Coffin Joe film in decades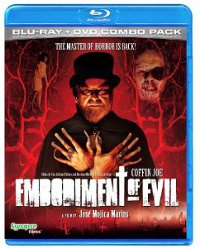 "Embodiment of Evil" (Synapse)
Jose Mojica Marins created Ze do Caixao (Jose of the Grave), known to English speakers as Coffin Joe, in 1963 with "At Midnight I'll Take Your Soul." This bizarre figure, a darkly fascinating mix of Dracula, demon, and Nietzschean superman who became kind of horror folk hero in his native Brazil, appeared in a number of films through 1979 but was only the protagonist of two films: "Midnight" and "This Night I'll Possess Your Corpse" (1967).
"Embodiment of Evil" (2008) is Marins' belated conclusion of what is being called the "Coffin Joe Trilogy," following the mad killer as he's freed from the psych ward of a high security prison after serving 40 years. Now he's also the dark priest of a Manson-like cult and he picks up where he left off, searching for a woman to bear his "perfect child." Imagine Aleister Crowley by way of the Marquis de Sade with a theatrical flamboyance, a voracious blasphemer in a Catholic culture who torments and tortures women (both willing and unwilling) ostensibly to test their worthiness.
The original Coffin Joe films were a triumph of shock value and lurid imagery. He offered a blaspheming anti-hero in a Catholic country and he delivered with primitive, primal ferocity and, later, psychedelic delirium. This is more like surreal Coffin Joe torture porn, with sadism, cannibalism, crucifixion, necrophilia and a 70-something old man with twisted fingernails and a wild beard inspiring women to take off their clothes and beg him for sex. Sort of like Hugh Hefner as a demonic wildman cult leader.
Marins was over 70 years old when he directed and starred in Embodiment and he's no longer the fierce screen presence nor the creatively unleashed primitive mythmaker behind the camera. Once a force of pure id in carny clothes, he's now more of an elder statesman walking though the part, though he still rouses himself to toss his head back and cackle to the heavens over his villainy like the old days. But it does have a power of its own in the weird mix of the purity of his cruelty and the corruption of the forces of power and morality.
Synapse releases the film in a Blu-ray+DVD Combo Pack with a fresh transfer (from a print sporting a 20th Century Fox logo, which was a partner in the production but apparently passed on releasing this gleefully blasphemous production stateside) and it is a lovingly-produced edition; the clarity of the Blu-ray is superb. It is in Portuguese with English subtitles, with Dolby Digital 5.1 on the DVD and DTS-HD MA 5.1 on the Blu-ray.
I go more in-depth at Parallax View here.