Cool and Classic: The Gravitas of John Wayne in 'Rio Grande'
Plus the Wachowski Brothers' 'Bound,' the cult horror film 'The Boogens,' and more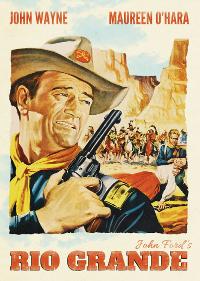 "Johnny Guitar" (Olive), starring Joan Crawford and Mercedes McCambridge as frontier entrepreneurs who are more masculine than the men around them, is one of the most unusual westerns of its era, or any era for that matter. It makes its long-awaited disc debut on both DVD and Blu-ray in a beautiful new edition. Videodrone's review here.
"Rio Grande" (Olive), starring John Wayne as a career cavalry officer, is the loosest film in John Ford's "Cavalry Trilogy" (which includes "Fort Apache" and "She Wore a Yellow Ribbon") and the most understated of the three. John Wayne, hiding behind the mustache of career officer Captain Kirby Yorke, is an aging cavalry veteran unexpectedly reunited with estranged wife Maureen O'Hara when she follows their son west after the boy enlists and joins his unit. Tentatively at first, Yorke begins to reconnect with his family and life he left behind. The spare setting and deceptively simple compositions create a powerful sense of community and Yorke's lonely isolation—physically​ and emotionally—and Wayne delivers one of his finest performances. Previously available on DVD, it's remastered for the Blu-ray debut and a new DVD edition, and includes the featurette "The Making of Rio Grande," hosted by Leonard Maltin.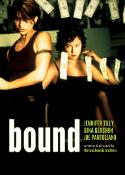 "Bound" (Olive), the debut feature from the Wachowski Brothers (before "The Matrix" and sexual reassignment), stars Gina Gershon and Meg Tilly as illicit lovers who set up Joe Pantoliano (in a terrific performance) to rip off $2 million in mob money. It's a cross between a con and a caper, and of course the drama builds when things go wrong, but it turns on character rather than plot. On Blu-ray and DVD in both the R and unrated cuts. No supplements.
"The Boogens" (Olive), a 1981 drive-in movie about monsters released from an abandoned silver mine in Colorado, has a small cult following that includes Stephen King as a member (a recommendation that the disc splashes across the cover). Blu-ray and DVD, with commentary by director James L. Conway, screenwriter David O'Malley, and star Rebecca Balding.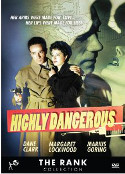 The title of "Highly Dangerous" (VCI), a 1950 thriller from Britain starring Dane Clark as an American citizen and Margaret Lockwood as a British Secret Service agent, refers to a germ warfare conspiracy that are western heroes are trying to track down while the secret police shadow their movements behind the Iron Curtain. Roy Baker directs from a screenplay by Eric Ambler.
It's one of three British thrillers from the Rank Collection released this month. "The  Arsenal Stadium Mystery" (VCI) is a 1938 murder mystery from director Thorold Dickinson starring Leslie Banks, and "The Long Memory" (VCI), directed by Robert Hamer, stars John Mills as an ex-con out for revenge on the men who framed him for a murder he did not commit.
Also from the Rank Collection is the "The Seekers" (aka "Land of Fury") (VCI), a colonial drama starring Jack Hawkins as a British settler in 19th century New Zealand.. Glynis Johns co-stars and Ken Annakin directs.
The MOD Movies report this week surveys a dozen "Forbidden Hollywood" movies from the pre-code era released by the Warner Archive, including the "Forbidden Hollywood: Volume 4" and "Forbidden Hollywood: Volume 5" four-disc sets.
For more releases, see Hot Tips and Top Picks: DVDs, Blu-rays and streaming video for week of August 7