Coming Up: Lost classic "Night Flight"
1933 all-star production, unseen since 1942, debuts on DVD in June
By 
SeanAx
 Feb 14, 2011 11:02AM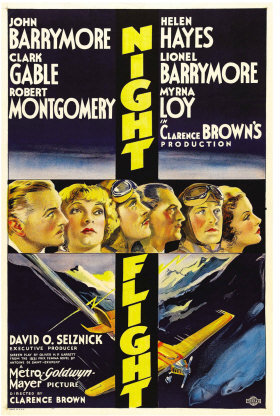 The all-star 1933 MGM adventure drama "
Night Flight
," starring John and Lionel Barrymore (in their final film together), Clark Gable, Helen Hayes, Robert Montgomery and Myrna Loy, was pulled from circulation by MGM in 1942. Long a cult item on the film collector's market, it has not had an official screening on TV or in theaters since and has never had a legitimate home video release.
Warner is liberating this lost classic, adapted from the best-selling novel by pilot-turned-author Antoine de Saint-Exupéry ("The Little Prince") and directed by Clarence Brown, from the vaults with a re-premiere at the second annual TCM Classic Film Festival in April, followed by a DVD release on June 7. Also available day and date on Video on Demand from cable and satellite providers and for electronic download from online retailers including Amazon Video on Demand.
Set over a 24-hour period during a polio outbreak in Rio de Janeiro, where dangerous nigh flight deliveries of serum over the Andes is the only hope, the film stars John Barrymore as the commander coordinating the dangerous night flights, Clark Gable and Robert Montgomery as two young pilots risking their lives and Helen Hayes and Myrna Loy as wives desperately awaiting news of their pilot husband's missions.
"It is probably the most authentic flying story that has come to the screen," wrote New York Times critic Mardaunt Hall in 1933.