Classic TV on Disc: The complete 'Peter Gunn'
TV's most debonair private-eye in living black and white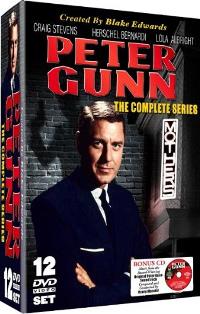 "Peter Gunn: The Complete Series" (Timeless), the stylish late-fifties private eye series created by Blake Edwards, stars Craig Stevens as TV's most debonair private-eye, a sardonic small screen Cary Grant with high society tastes and underworld connections. Edwards is far more famous for his comedies than his crime stories but the man had a real flair for noir, from the hard-boiled crooks and moral complications of criminal enterprise to the shadowy nocturnal world of city streets and smoky clubs, and he brought the sensibility to the small screen with an economy fitting the format. As well as the creator and producer, Edwards directed six of the first eight episodes, setting the austere small screen noir style that defined the show, and wrote the stories for dozens more.
A walking bass-line kicks off the jazz combo score and sets the tone for every episode, which begins with a concise, cool, often wordless pre-credits crime, then leaps from the visual punchline kicker into the now famous brassy theme song. Each episode is a veritable digest of B movie film noir conventions, done up in a strikingly stylized manner on austere, often abstract sets filled with fog and smoke and lit in a twilight haze with shadows cutting through. Bantering with cynical Lt. Jacobi (a wry Herschel Bernardi) and weaving through a kooky and colorful gallery of informants, Gunn is a class act, quick with a quip and handy with his fists. Lola Albright, elegant and playful as Gunn's classy chanteuse girlfriend Edie Hart, sings a classic standard backed by a cool jazz combo in the waterfront nightclub Mother's, which is the closest that Gunn has to an office. Gravel voice, hatchet-faced Hope Emerson (a minor B icon for her imposing turns as noir villains) plays Mother in the first season and Minerva Urecal took over for the final two season.
Presented in broadcast order, you can see the development of the series away from the private-eye voice-over dominated "The Kill" (which introduces every character with a stylish entrance into the series) and "The Chinese Hangman" (the show's tribute to "Out of the Past") to a kind of formalized world where real life and natural locations never intrude upon this self-contained, studio-bound existence.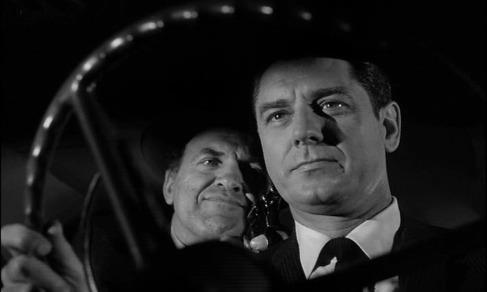 A portion of the show was previously released by A&E in decent if unremarkable versions, and some incomplete episodes. Timeless has done a fine job of remastering the episodes for DVD from original broadcast versions (not the edited syndicated cuts) for almost every single episode (kudos to Richard Gallagher at Home Theater Forum for checking the run times and video quality of each and every episode). Based on the clarity of the image, they appear to be take from 35mm prints, though I can't verify that as fact. Regardless of source, they sound good and look great, presented in its correct squarish Academy Ratio of pre-widescreen television (1.33:1) and Dolby Digital mono. It's one of my favorite vintage shows of all time and I couldn't be more satisfied by this set.
114 episodes on 12 discs in a box-set of three double-wide cases. No video supplements but there is a bonus CD soundtrack featuring the hit theme song and music from the series composed and conducted by Henry Mancini.
For more releases, see Hot Tips and Top Picks: DVDs, Blu-rays and streaming video for week of November 20