Coming Up: "Fair Game," "Love & Other Drugs" and more
Catching up on the week's announcements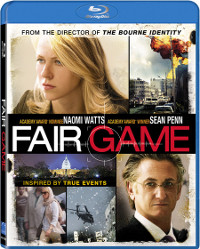 The real life spy thriller and espionage drama "Fair Game," starring Naomi Watts as CIA agent Valerie Plame and Sean Penn as her husband, Ambassador Joseph Wilson, is set to blow its cover on March 29 from Summit Entertainment.
Directed by Doug Liman, this fact-based drama digs into the unprecedented (and treasonous) event of a sitting government exposing the identity of a undercover agent—putting her life and the lives of her overseas contacts in jeopardy—in retaliation for her husband's criticism of its foreign policy.
The DVD and Blu-ray will include Commentary with Valerie Plame-Wilson and Joe Wilson, according the press release.
Also coming in March:
"Love & Other Drugs" (Fox), the romantic comedy starring Jake Gyllenhaal as a playboy pharmaceutical salesman and Anne Hathaway as a free spirit who doesn't want any emotional complications in their relationship. DVD and Blu-ray on March 1
"The Switch"(Lionsgate), a comedy starring Jenifer Aniston, Jason Bateman and a surreptitious sperm sample. DVD and Blu-ray on March 15
"Four Lions" (Magnolia), the acclaimed British comedy that—in the finest tradition of satire—found farce in the efforts of bumbling Islamic extremists to launch their own attack on the decadent West. DVD and Blu-ray on March 8.
"The Man From Nowhere" (Well Go), the South Korean top box-office hit from 2010 starring local superstar Bin Won as an assassin on a personal mission. It had a limited release in the U.S. and is set for DVD and Blu-ray on March 8.