The New Release Rack: The wild 'Beasts' of an acclaimed American indie
Plus 'Hope Spring,' 'Timothy Green,' 'Butter,' 'Ai Weiwei,' and many more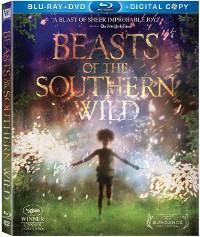 "The Dark Knight Rises" (Warner), the culmination of Christopher Nolan's trilogy of high-minded comic book superhero action spectacles by way of pop-art social commentary, doesn't want for ambition. Videodrone's review is here.
"Beasts of the Southern Wild" (Fox), about the independent folk trying to hold on while living in "The Bathtub," the swampy islands south of New Orleans after Katrina, won the Grand Jury Prize as Sundance 2012. Rolling out like a stream of consciousness poem from the mind of a little girl who intermixes fantasy and reality, it is an imaginative and visually rich and vibrant film, an ambitious vision from a first-time feature filmmaker, Benh Zeitlin. It also traffics in clichés, with these swamp seen as oblivious mavericks, resolute in their defiant stand to remain on their land, even when it's six feet under water and they are passed on drunk in the local tavern (helpfully built high enough to avoid the flood).
What saves Zeitlin, apart from his lush and unexpected imagery, is the central performance of young Quvenzhané Wallis as Hushpuppy, our narrator and guide through a world on the cusp of disaster area and mythical wonderland, and Dwight Henry as her dying father Wink. There isn't much logic to their actions but there sure is passion and personality.
MSN film critic Glenn Kenny likes the film more than I do, writing that "it actually is really wonderful. Yes, it does deal in tropes that, in the hands of filmmakers less deft and inspired, would yield little else but an ash heap of we-care-a-lot clichés, but director Benh Zeitlin, co-writing a script with Lucy Alibar based on her stage play, brings remarkable imagination and ability to his empathy and near-galactic ambition. The movie's imagery is always striking, surprising and somehow never off-key."
Blu-ray and DVD, with the featurette "The Making of Beasts of the Southern Wild." The Blu-ray edition also features deleted scenes with commentary by director Benh Zeitlin, auditions tapes for Quvenzhané Wallis and Dwight Henry (individually and together), featurettes on the music and the creation of the Aurochs, and Zeitlin's 2008 short film "Glory at Sea," also set and shot in New Orleans, plus a bonus DVD and digital copy. Also available On Demand.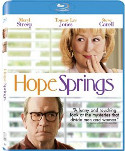 "Hope Springs" (Sony) stars Meryl Streep and Tommy Lee Jones as an old married couple without much spark in their relationship after all these years, so she shakes him out of his routine for a week of marriage therapy with a couples specialist (Steve Carell). "The reason to see it is for Jones," argues Chicago Sun-Times film critic Roger Ebert. "This man who can stride fearlessly through roles requiring strong, determined men, this actor who can seem in complete control, finds a character here who seems unlike any other he has played and plays it bravely."
Blu-ray and DVD, with commentary by director David Frankel, the featurette "Inside the Perfect Marriage: Meryl Streep and Tommy Lee Jones," alternate takes, and a gag reel. The Blu-ray has four additional featurette and a bonus UltraViolet digital copy for download and instant streaming. Also available On Demand and at Redbox.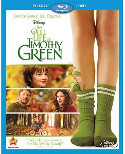 "The Odd Life of Timothy Green" (Disney) is a PG-rated fantasy about a childless couple (Jennifer Garner and Joel Edgerton) who make a wish upon a garden and wake to find an odd child of mother nature (CJ Adams) on their doorstep. Director / screenwriter Peter Hedges "spins it out and weaves it into a fable of love and life, told with real insight, warm humor and excellent filmmaking," writes MSN film critic James Rocchi. "Hedges has a good ear, eye and heart for the messier ways of family."
Blu-ray, DVD, and HD Digital, with five deleted scenes with optional director commentary and a music video by Glen Hansard. The Blu-ray and HD Digital editions also include the featurettes "Family Roots: Bringing The Odd Life of Timothy Green to the Screen" and "Glen Hansard: Behind This Gift" (on the song he recorded for the end credits). Exclusive to the Blu-ray is commentary by director Peter Hedges and a bonus DVD  copy. Also available On Demand and at Redbox.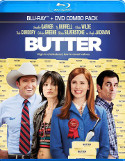 Jennifer Garner also stars in "Butter (Anchor Bay), a red-state political satire set in the world of a butter carving competition and the dirty tricks played to assure a win. "There's a broader theme here -- one about public redemption, public reinvention and public image, one that plays out best in the scene where the butter carving competitors address the crowd at the preliminaries -- but every time the film brushes against something smart and sharp, it skitters away like it's brushed a hot stove," complains MSN film critic James Rocchi. Ty Burrell, Olivia Wilde, Rob Cordry, Ashley Green, Alicia Silverstone, and Hugh Jackman co-star. Blu-ray and DVD, with deleted scenes and a gag reel.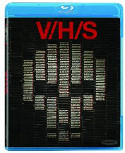 Horror anthology "V/H/S" (Magnolia) pays tribute to the horrors of the videotape age with a collection of five short "found footage" films from by Adam Wingard, David Bruckner, Ti West, Glenn McQuaid, Joe Swanberg, and the collective Radio Silence. This one is designed to look aggressively scruffy and scrappy and lo-fidelity, with tape damage and interference worked into the production (sometimes effectively, sometimes merely to distraction), but it's mostly high concept situations that unfold to inevitable endings. Sometimes creepy, sometimes clever, often just shrill and annoying. Blu-ray and DVD, with commentary, an alternate ending to one short, extended footage on others, featurettes, interviews, and deleted scenes among the supplements. More reviews here.
"Silent Night" (Anchor Bay) is your seasonal horror film, a remake of the 1984 slasher Santa film "Silent Night, Deadly Night" with Malcolm McDowell, Jamie King, and Donal Logue. Blu-ray and DVD, with a featurette and deleted scenes. Reviews here.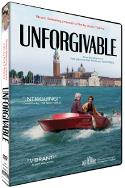 Foreign Affairs:
"Unforgivable" (Strand), from André Téchiné, is a romantic thriller starring André Dussolier as a French crime novelist who falls in love with a his real-estate agent (Carole Bouquet) while on vacation in Venice and gets caught up in complicated undercurrent of emotions and old history. "The complicated doings are poised on a knife's edge between absorbing and ludicrous, and the characters' decisions are often, by any rational standard, bizarre," writes New York Post film critic Farran Nehme Smith. "Both Venice and Bouquet are photographed to ravishing effect, and like the city, Judith is meant to suggest something trapped into being a fantasy for others." French with English subtitles, DVD only, no supplements.
"Alps" (Kino), Greek director Yorgos Lantimus' follow up to his Oscar-nominated debut film "Dogtooth," another offbeat project, this one about a secret society that helps grieving people by (for a fee) posing as a recently-deceased member of a mourning family. "There is a lot of ambiguity about the boundaries between the real and what might be called the Alpine dimensions of interpersonal contact," observes New York Times film critic A.O. Scott, but also "an emotional ferocity that prevents the film from turning into an arch intellectual game." Greek with English subtitles, DVD only, no supplements.
The Chinese martial arts thriller "Wu Dang" (Well Go), starring Vincent Zhao and featuring action choreography by Corey Yuen, is a heist film set at a martial arts tournament. Mandarin with English subtitles, Blu-ray and DVD, with a featurette. Reviews here.
"The Day I Saw Your Heart" (Film Movement), a romantic drama from France starring Melanie Laurent and Michel Blanc, on a disc featuring the animated short "Don't Tell Santa You're Jewish" as a bonus. Reviews here.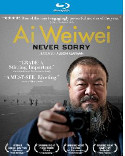 True Stories:
"Ai Weiwei: Never Sorry" (Sundance Selects), winner of the Sundance Jury Prize and one of the 15 films on the Oscar shortlist for documentary feature, profiles the acclaimed Chinese artist, filmmaker, and political activist, who was arrested and detained for 81 days in 2011 for critical comments about China. "Alison Klayman's stirring, important documentary catches his complex humanity," writes Entertainment Weekly film critic Owen Gleiberman. "He radiates a mischievous sense of the absurdity — and necessity — of one man tossing stones at a regime this gigantic" Blu-ray and DVD, with filmmaker commentary, deleted scenes, and interviews.
"Dreams of a Life" (Strand) investigates the mystery behind Joyce Vincent, a 38-year-old woman whose death in a London flat went undiscovered for three years. DVD only, with a featurette. Reviews here.
Also new this week on DVD:
- "The Whale" (Docurama), about the young orca who lost contact with its pod off the coast of British Columbia and tried to make friends with humans, narrated by Ryan Reynolds, with deleted scenes and bonus interviews
- "Money and Medicine" (Docurama), a look at the medical, ethical, and financial issues around runaway health-care spending, with deleted scenes
- "Inspired: The Voices Against Prop 8" (Garden Thieves), a portrait of the protests and activism ignited by the passage of Proposition 8 (which revoked marriage right for same-sex couples) in California in 2008.
For more releases, see Hot Tips and Top Picks: DVDs, Blu-rays and streaming video for week of December 4, 2012