New Release: Welcome to the 'Hotel Transylvania'
Adam Sandler and pals voice old school monsters with contemporary attitude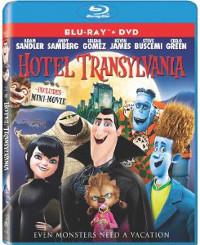 Adam Sandler reunites old friends (Kevin James, David Spade, Steve Buscemi) to fill out the mad monster party of the animated comedy "Hotel Transylvania" (Sony), a kids movie from the comedy star whose sense of humor has always tended toward the juvenile, not to say the sophomoric.
Sandler puts on his Lugosi accent to play Dracula, doting single father and proprietor of the monsters-only vacation paradise, a refuge from the human world, until a goofy world-traveling backpacker (voiced by Andy Samberg doing a killer Steve Zahn) stumbles into the castle and, through sheer exuberance and good-natured sweetness, catches the attentions of Drac's teenage daughter Mavis (Selena Gomez), a mere girl at 118 years young.
It all unfolds the way you would expect a Sandler film to play out, maybe a little sweeter than usual (Sandler is quite the lovingly overprotective father), but with none of the playfully macabre humor or sense of character of "ParaNorman" and "Frankenweenie." This is all bright sight gags and all the poop jokes and fart humor and kicks to the armor-protected crotch you've come to expect from a Sandler comedy. 
"Sometimes I wonder whether the true function of contemporary pop culture isn't to recycle the inane pap of the past into inane crap," complains MSN film critic and self-described grumpy-old-man Glenn Kenny. Say what you will about "Mad Monster Party," that movie didn't have the gall to try to impart a lesson. If I seem like I was annoyed by pretty much every second of this movie, well, I kind of was." But, he confesses, the kids seem to like it.
Blu-ray, Blu-ray 3D, and DVD, with commentary by director Genndy Tartakovsky, producer Michelle Murdocca, and visual effects supervisor Daniel Kramer, bonus animated "mini-movie" "Goodnight Mr. Foot," three deleted scenes, and a music video, plus an UltraViolet digital copy for download and instant streaming.
The Blu-ray edition also includes featurettes on the voice cast and creation of the hotel, three progression reels of the animation process, and a bonus DVD. The Blu-ray 3D Combo Pack features bonus standard Blu-ray and DVD editions. Also available On Demand and at Redbox.
For more releases, see Hot Tips and Top Picks: DVDs, Blu-rays and streaming video for the week of January 29