Coming Up: An Incredible Announcement!
"The Incredibles" bounds to Blu-ray in April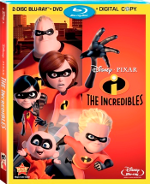 Pixar's superhero saga "The Incredibles," animation's favorite super-powered family film, makes its Blu-ray debut on April 12 in a
4-Disc Blu-ray Combo Pack (2 Blu-ray 
Discs + 1 DVD + 1 Digital Copy).
The film drops super-heroics into a world where heroes are outlawed and our family band has to hide its powers under the guise of a typical (by all outside appearances) suburban nuclear family, creating a super-powered dynamo of dysfunction and frustration in hiding.
Directed by Brad Bird ("The Iron Giant"), making his CGI debut, for Pixar, the film was a big hit and winner of two Academy Awards (2004 Best Animated Feature Film and Best Achievement in Sound Editing).
Details after the jump.

Blu-ray: 
Includes The Following All-New Bonus Features Plus All The Classic DVD Features: 
• The Incredibles Revisited – A roundtable discussion with Writer/Director Brad Bird, Producer John Walker, Story Supervisor Mark Andrews, Supervising Technical Director Rick Sayre, Production Designer Lou Romano, Character Designer Teddy Newton, and Supervising Animator Tony Fucile. 
• Paths To Pixar: Story Artists – Continuing the popular bonus feature series that viewers have seen on many other Disney•Pixar releases, this exciting new feature showcases multiple Pixar story artists giving viewers exciting insight into their work, their inspiration and the personal paths that eventually led them to a career at Pixar. 
• Studio Stories: Gary's Birthday – Trying to make a movie when there are not enough work days and too many birthday parties?  This feature showcases how The Incredibles crew solved that problem.   
• Ending With A Bang: Making The End Credits – Interview with Director of Photography Andy Jimenez and Character Designer Teddy Newton about the process of creating the end credits for the film. 
• "The New Nomanisan" Island Redevelopment Plan – A guided tour of Nomanisan Island, post-Syndrome, pitching the island as a vacation resort paradise. 
Classic DVD Features: 
The DVD in the 4-Disc Blu-ray Combo Pack Includes: 
• The Incredibles feature film 
• The original short film Jack-Jack Attack  
• Pixar's Academy Award®-nominated short film Boundin' (2003 Best Animated Short)