TV on Disc Channel Guide: 'Steve Martin' on TV
Plus Chris Elliot's complete 'Get A Life,' news seasons of 'Modern Family' and 'Supernatural,' and more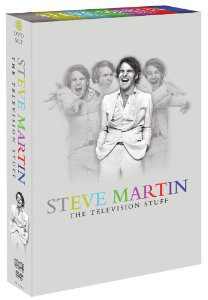 "Suburgatory: The Complete First Season" (Warner), the new family sitcom of urbanites in the cultural desert of suburbia, is an entertaining meeting of classic sitcom tropes and knowing, self-aware humor. Jeremy Sisto, Jane Levy, and Cheryl Hines star. Videodrone's review is here.
"Steve Martin: The Television Stuff" (Shout! Factory/SOFA Entertainment) collects all six Steve Martin specials made for cable and broadcast TV, from his 1976 stand-up special "On Location with Steve Martin" (recorded for HBO) to the 1984 "Homage to Steve," a video special featuring his Oscar-nominated short film "The Absent-Minded Waiter" (co-starring Buck Henry and Teri Garr) and a 1979 stand-up performance. While it's great to have his stand-up act preserved, the gold is in his freewheeling network specials and the surreal sketches he spins without worrying about filling out a feature film narrative, from acting out the story of Marty Robbins' "El Paso" with a cast of monkeys and elephants (in "Comedy is Not Pretty") to the commercials of "All Commercials" (look for pre-Pee Wee Paul Ruebens in the cast) done like a live TV variety show (complete with ridiculous production numbers). They were all shot on video and mastered from videotape, so don't expect high fidelity here. These are as good as thirty-some year old magnetic video will ever look.
A third disc features Steve Martin appearances on other programs, from "The Tonight Show With Johnny Carson" to "Saturday Night Live" to "The Late Show with David Letterman," plus select award shows, and each disc features new interviews with Martin. Three discs in a box set of three thinpak cases, plus a booklet with an essay and menus. DVD only.
"Get A Life: The Complete Series" (Shout! Factory) – Chris Elliot's first TV series, about a thirty-year-old paperboy living above his parents' garage (played by Elinor Donahue and his real-life father Bob Elliot, of "Bob and Ray" fame) was one of the early attempts by the new FOX network to carve out its identity. Elliot took the challenge and pushed the show into silly, surreal, sometimes dark and disturbed and just plain weird territory. Not that unusual today but pretty out there for 1990, and the show doubled down on its conceptual daring in its abbreviated second season, when it added Bob Odenkirk and Charlie Kaufman to the writing staff.
35 episodes from the show's all-too-brief two season run on six discs on DVD, with commentary on every episode featuring co-creator/producer/​writer David Mirkin (there are multiple tracks on some of them) and an alternate audio track with no laugh track on select episodes. There's also the new featurette "Get a Life 2012" with TV vets James L. Brooks, Judd Apatow, and Peter Chernin, and a new interview with show producers David Mirkin, Steve Pepoon, and Jace Richdale, and the "Paleyfest 2000!" panel with actors Elinor Donahue, Brian Doyle-Murray, Robin Riker, director David Mirkin, writers Charlie Kaufman and Bob Odenkirk, and producers Steve Pepoon and Jace Richdale. In fact, all that's missing seems to be Chris Elliot himself.
"Grounded For Life: The Complete Series" (Mill Creek) collects all five seasons of the sitcom starring Donal Logue and Megyn Price as a fun-loving Staten Island couple who married at 18 but never really grew up, despite becoming the parents of three strong-willed kids. Kevin Corrigan stars as Logue's even more childish younger brother. The show jumped networks from Fox to the WB in its third season, where it finished its run. 91 episodes on 13 discs, with commentary, interviews, bloopers, and unaired episodes.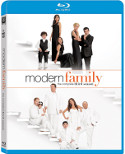 Another season:
"Modern Family: The Complete Third Season" (Fox), an updating the classic American family sitcom with an extended family that is nothing if not diverse, arrives with two consecutive wins for "Outstanding Comedy Series" at the Emmys and 14 Emmy nominations for its third season, including nominations for series stars Ed O'Neill (as patriarch Jay Pritchett), Sofía Vergara (his younger Colombian wife), Julie Bowen (his high-strung daughter), Ty Burrell (her childish husband), Jesse Tyler Ferguson (his anxiety-ridden gay son), and Eric Stonestreet (his flamboyant partner). It deals with the same situations as every other sitcom (this season opens with a vacation at a western dude ranch – there's a chestnut so old it's vintage) and the episodes end in a heartwarming reflection on family life, but the everyday challenges of these modern families are as contemporary as they are timeless. 24 episodes on three discs in Blu-ray and DVD, featurettes, deleted scenes, and the obligatory gag reel.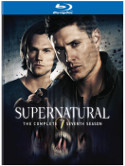 "Supernatural: The Complete Seventh Season" (Warner) continues the adventures of Sam and Dean (Jared Padalecki and Jensen Ackles), demon-hunting brothers on the backroads of America, as they search for the Leviathans who have been freed from Purgatory. 23 episodes on Blu-ray and DVD, with commentary on three episodes, two featurettes, deleted scenes, and an outtake of Jensen Ackles singing "I'm All Out of Love." The Blu-ray also includes the interactive "Supernatural Creature Fest Drive-in," featuring short tributes to horror films of the 1950s and 1960s and an UltraViolet copy of each episode for instant streaming.
"Body of Proof: The Complete Second Season" (Disney) improves on the first season as it settles in to its forensic conventions and humanizes Dana Delaney's Dr. Megan Hunt, the genius forensic pathologist of Philadelphia, as she continues to mend fences with her daughter, ex-husband, and equally ambitious and headstrong mother (Joanna Cassidy), a judge who loses her position after a scandalous case. The first full-length season ends with a two-part terrorist bio-weapon attack that claims a member of the team and a finale that pits her against a serial killer (guest star Peter Stormare) she put behind bars years before. DVD only, 20 episodes on four discs, plus featurettes and webisodes spun-off from the viral outbreak episodes.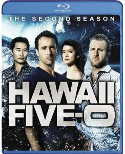 "Hawaii 5-0: The Second Season" (Paramount) opens with McGarrett (Alex O'Loughlin) arrested for the murder of the Governor, but quickly reunites the special branch and brings in Terry O'Quinn in a recurring role as a mentor to McGarrett as he continues the search for his father's killer. Book 'em, Danno. 23 episodes on Blu-ray and DVD, plus commentary, featurettes, and the "NCIS: Los Angeles" crossover episode.
"The Mentalist: The Compete Fourth Season" (Warner) brings Patrick Jane (Simon Baker), former fake psychic turned real FBI consultant, back to the team after killing Red John, the serial killer who murdered his wife. But did he kill the right man? 24 episodes on five discs, plus a featurette, DVD only.
Also continuing: "Army Wives: Season Six, Part One" (ABC), the army-base drama from the Lifetime Network with Kim Delaney, Sally Pressman, Brigid Brannagh, Wendy Davis and Catherine Bell (13 episodes on three discs) and "Rawhide: The Fifth Season, Vols. 1 and 2" (Paramount), the cattle drive western series with Eric Fleming and Clint Eastwood, in separate volumes (16 episodes on Vol. 1, 15 on Vol. 2) of four discs apiece or bundled together. All DVD only.
Non-Fiction TV:
"American Experience: Death and the Civil War" (PBS) explores the legacy of the staggering casualties of the American Civil War. Based on the book "This Republic of Suffering" by Drew Gilpin Faust and directed by Ric Burns. DVD only.
"Joseph Campbell - Mythos: The Complete Series" (Athena) collects the complete 15-episode series of Joseph Campbell lectures, originally broadcast in 1997, in a six-disc box set, plus a study guide.
"Understanding Art: Impressionism" (Athena) presents all four episodes of the BBC series hosted by art critic Waldemar Januszczak, along with bonus programs "Manet: The Man Who Invented Modern Art" and the three-part "Vincent: The Full Story," in a three-disc box set.
Also new: "James Bond Gadgets" (History) compares the spy fantasy to the real world of espionage technology.
- "Cajun Pawn Stars: Season One" (History) establishes a southern spin-off for the network's new reality franchise. Eight episodes on one disc, DVD only.
- "America's Book of Secrets" (History) presents the original two-hour special and ten subsequent episodes of the H2 series on two discs, DVD only.
- "Best of Ancient Aliens" (History) collects four episodes of the speculative series on one disc. Blu-ray and DVD.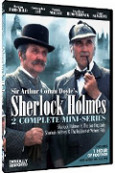 Plus:
- "Sherlock Holmes: 2 Complete Mini-Series" (Mill Creek) features two British TV productions ("Sherlock Holmes and the Leading Lady" and "Incident at Victoria Falls") from the early 1990s starring Christopher Lee as Holmes and Patrick Macnee as Watson. DVD only.
- "The Lost World: Double Feature" (Mill Creek) collects a pair of 1992 TV-movie adaptations of the Arthur Conan Doyle novel starring John Rhys-Davies and David Warner. DVD only.
- "For One Night" (Lifetime) is a Lifetime Original Movie starring Raven-Symoné as a high school girl who campaigns to integrate the racially segregated prom in her small town. DVD only.
For more releases, see Hot Tips and Top Picks: DVDs, Blu-rays and streaming video for week  of September 18