TV on Disc: 'Justified' continues the Elmore Leonard sensibility on cable
Timothy Olyphant takes on the Chicago mob and the backwoods mafia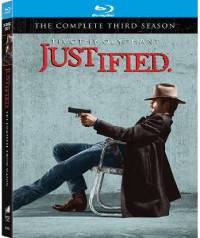 "Justified: The Complete Third Season" (Sony), the Kentucky-set crime drama of a U.S. Marshall taking on the southern crime culture of the home state he tried to escape, continues what has become the signature of FX original dramas. The 13 episodes continue the rocky roads of the show's core characters within a self-contained storyline with a new cast of characters, sort of like a meandering novel in a continuing series.
Initially adapted from an Elmore Leonard short story, "Justified" is an exceedingly smart piece of pulp fiction with the rough edges of fascinating characters and storylines with dramatic blowback. Leonard remained on board as an executive producer and a resource, keeping the show rooted in his sensibility and his way with dialogue.
By now there are no illusions to the self-destructive nature of Marshall Raylan Givens (Timothy Olyphant). He crashes and burns his briefly re-ignited relationship with his ex-wife (Natalie Zea) and moves into a room above a dive bar (where he pays rent by serving as its bouncer) while taking on a new threat: Chicago mob operator Robert Quarles (Neal McDonough, all smooth, smarmy sadism), essentially a criminal carpetbagger come down to Kentucky to establish a drug empire in Raylan's backyard.
That puts Quarles in direct conflict with Boyd Crowder (Walton Goggins, currently in Steven Spielberg's "Lincoln" and Quentin Tarantino's "Django Unchained"). With the demise of the Bennett family empire in season two, Boyd is busy consolidating his control of the Harlan County crime culture with the help of Ava (Joelle Carter). That's simply another dimension that makes Boyd such an engaging character: he doesn't just love Ava, he respects her and supports her. She's a partner in the enterprise and rises to the reponsibility. Which puts Raylan smack in the middle of an underworld power struggle involving his father, his old buddy, and his former lover on one side, and plenty of old nemeses back for another tangle with the slow-talking Marshall with a fast draw on the other.
This season also introduces a veritable independent territory within the county: Noble's Holler, a valley community run by a feudal lord of a backwoods godfather named Limehouse (Mykelti Williamson) who conducts his business from a barbecue shack. Sometimes it's hard to tell the blood from the barbecue sauce.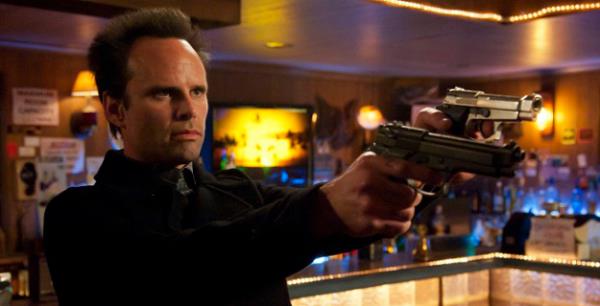 Raylan is a lawman who manages to traverse the boundaries between society and these outlier microcosms. Maybe that because he's a little like them, making up his own rules as the maverick in the Marshall service. And as effective as that might serve him on some occasions, "Justified" never pretends that this makes him any better than his more conventional colleagues. Just because he stands on the side of the law doesn't mean he's not a part of that world in his own way. And maybe that fear is what keep Raylan sabotaging his career and his life at every turning point.
13 episodes on three discs on Blu-ray and four discs on DVD. Both editions feature commentary on nine episodes, the featurettes "Crossing the Line: Making Season 3" and "Anatomy of a Stunt," a set tour by production designer Dave Blass, three deleted scenes, and outtakes. Exclusive to the Blu-ray is the 26-minute interview featurette "In Conversation with Timothy Olyphant and Walton Goggins."
For more releases, see Hot Tips and Top Picks: DVDs, Blu-rays and streaming video for week of January 1