Coming Up: Final Friday
Friday Night Lights: The Fifth And Final Season set for DVD on April 5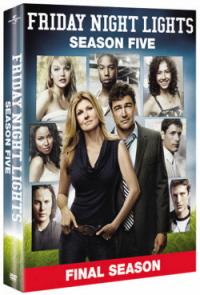 Universal announces the release of the critical darling "
Friday Night Lights: The Fifth And Final Season
" on April 5.
The acclaimed series, based on the book by Buzz Bissinger and the subsequent feature film starring Billy Bob Thornton, was canceled after its first season on NBC, but a combination of fan activism and an unprecedented partnership with satellite provider DirecTV kept the show alive for four more seasons, running on the abbreviated model adopted by most cable channels. The final season, which is currently running its final quarter on DirecTV, runs 13 episodes. Here is what else Universal tells us the set will include (from the press release):
DVD BONUS FEATURES:
• DELETED SCENES
• FEATURETTE: THE LIGHTS GO OUT: An emotional and entertaining journey through all five seasons of "Friday Night Lights" as the cast and crew say goodbye.
• FEATURED COMMENTARIES:
o "Don't Go:" Commentary with Director Michael Waxman
o "Always:" Commentary with Executive Producer and Showrunner Jason Katims