Mad Men in a Changing World
Big changes in Season Four, and yet some things never change
"Mad Men: Season Four" (Lionsgate)
When we last left Don Draper (Jon Hamm) and the folks at Sterling Cooper, Don was inciting a revolution of sorts: he pulled together a core team of trusted and talented executives and creatives and created their own upstart agency just as the old firm is sold out from under them. The new season finds the newly-divorced Draper a partner in a young firm trying to look successful as it struggles to make payroll on a few accounts that barely keep them running. It's hard there for an independent, especially when their biggest client pulls out and the company faces the threat of collapsing, and it's harder when Draper doesn't consult with his partners before taking chances with bold moves and aggressive techniques.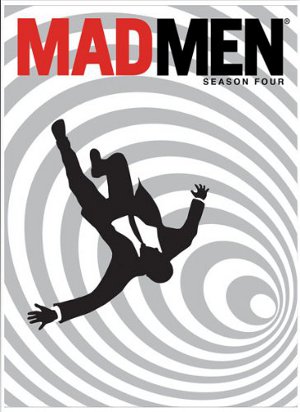 But the more interesting stories are about the people, from Don's lost weekend (talk about a wake-up call to a man who drinks alcohol like water) to Betty's (January Jones) anxieties trying to sculpt a perfect new life and unraveling every time a piece fails to fit to copywriter Peggy (Elisabeth Moss) and office manager Joan (Christina Hendricks) trying to find their place in what is still a boy's club. One of the most challenging and interesting storylines belongs to Don and Betty's schoolgirl daughter Sally, who becomes a full-blooded character with as many anxieties and frustrations as the adults as she collides with Betty, and Kiernan Shipka delivers one of the best performances by an actor her age I've ever seen. And don't forget the essential work by John Slattery as the unflappable Roger Sterling, account dinosaur (he also directs two episodes), Vincent Kartheiser as the hungry and ambitious junior member of the partnership, Jared Harris as the British partner who is socially awkward in the American vernacular and the easy grace of the great Robert Morse as the firm's elder.
Like the previous seasons, the show is as much about social roles, sexual identity, self-awareness, responsibility and disenchantment with the promise of the American Dream, especially by those who seems to have it all and still find themselves unfulfilled. And like previous season, it doesn't look like these people are making any better decisions, at least when it comes to their private lives.
13 episodes on four discs for DVD and three discs on Blu-ray, each in a standard case with hinged trays. Each episode features at least one commentary track (most have two, for a total of 24 tracks) by various combinations of actors, directors, writers and directors. Creator/writer Mathew Weiner (that's pronounced "wine-er") is there for almost every single episode (and no, I did not listen to them all, or even most of them, by sampled many) and, as on previous sets, he's the most interesting if only for the wealth of detail he brings in discussing his inspirations, intentions and interests for each episode, each character and each storyline. From the season premiere, where he discusses the hows and whys of all of the reintroductions of the characters in the jump since the end of season three with actor Jon Hamm (who tends to remain in the background until Wiener draws him in), to the finale, he comes at from a writer's perspective, a storyteller with a lot to say about what he's exploring in these stories. The other creatives—writers, producers, directors—are generally more interesting than the actors, who don't appear to have thought as much about the entirety of the show as much but do offer their understanding of their characters and often perceptive observations of other characters.
There are no traditional production featurettes here. Instead, there's a collection of documentaries that play off the themes of the show. "Divorce: Circa 1960s" is a three-part, eighty-minute documentary that confronts the growing divorce rate of the era and the changing attitudes of the times, set against the examples we see in the show. "How to Succeed in Business Draper Style," which runs just under an hour, tackles a ten point blueprint for success with the episodes as illustration comments by real corporate executives putting them in context of their experiences. "Marketing the Mustang: An American Icon" and "1964 Presidential Campaign," both around half an hour, take a look at these historical campaigns through archival ads, newsreel and news reports.