New Release: 'Big Miracle'
Drew Barrymore stars in this true story of an underdog rescue of three gray whales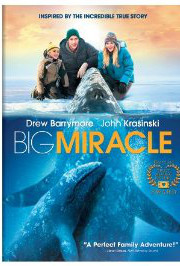 In 1988, the plight of three gray whales trapped in ice in Alaska became a big new story and the rescue, an international effort that included help from two Soviet icebreakers, became a media event: Operation Breakthrough.
This true story is retold as a heartwarming family drama in "Big Miracle" (Universal), starring Drew Barrymore as a Greenpeace activist who leads the rescue effort and John Krasinski as a small-town reporter who gets the story out to the world. As the media converges on the North Alaska town, a coalition of groups usually at odds -- environment activists, Alaskan natives, an oil tycoon (Ted Danson), the American military, and the Russian navy -- comes together.
"Sounds like a perfect vehicle for unremitting schmaltz, and the movie certainly has its fair share of that," observes MSN film critic Glenn Kenny. "However, it also has a more-than-fair amount of wry humor, droll political observation if not actual satire, and nicely understated emotional content in the romance department. The role of the almost overearnest environmental crusader is well-nigh perfect for Barrymore, whose prominent de-glamming here is explained in a throwaway line in which her character sneers about cosmetics being tested on animals.
"This detail is in fact rather emblematic of the way "Big Miracle" brings unusual nuance to a hoary heartstring-tugging saga, and thus renders it several notches above average in its genre."
Blu-ray and DVD, with commentary by director Ken Kwapis, deleted scenes with introductions by Kwapis, and the featurette "Truth is Stranger Than Fiction." Exclusive to the Blu-ray edition is the production featurette "A Big Miracle in Alaska" and an Ultraviolet digital copy, for download and instant streaming. Also available On Demand.
For more releases, see Hot Tips and Top Picks: DVDs, Blu-rays and streaming video for June 19